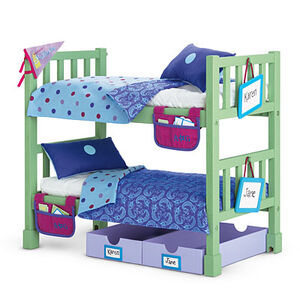 The Camp Bunk Bed Set is Just Like You furniture set released in 2009 and retired in 2010. Retail cost was $145.
Bed
Green wooden bunk bed. Slotted head and foot boards. Two knobs on one end and one knob near top bunk. Plastic feet for Stacking (see below).
Mattresses
Two mattresses.
Pillows
Two reversible pillows. One side is blue with a single light blue dot; other side is light blue.
Bedspreads
Two reversible bedspreads; blue paisley print on one side light blue with magenta/purple/lavender polka dots on other
Nameboards
Teal plastic name boards with burgundy cord. Cardboard inserts for writing names.
Bins
Two lavender covered cardboard bins. Teal name boards with cardboard inserts for writing names.
Caddies
Two burgundy bed caddies with purple trim. Two pockets. AG logo embroidered on left pocket. Straps with Velcro to attach to bunk.
Stationary paper
Four sheets of white lined stationery paper. Teal border and leaf design motif.
Envelopes
Four green envelopes.
Postcards
Four green postcards from "Pine Lake Camp"
Pennant
Lavender pennant with "Pine Lake Camp" logo on front. Can tie to bed with burgundy ribbons.
Extra Bunk and Bedding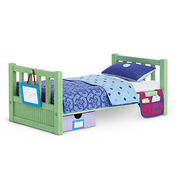 A single camp bed was available and sold as the Extra Bunk and Bedding for $85; it came with a halved set of everything and no pennant. The head and foot boards are much shorter.
Triple Bunk and Bedding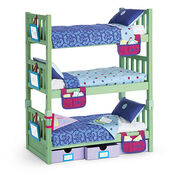 If the Extra Bunk and Bedding was purchased with the Camp Bunk Bed Set, this created the Triple Bunk and Bedding and came at a cost of $215.
Stacking
The Camp Bunk Bed can be stacked on top of the Extra Bed and Bedding. The single bed cannot be stacked on top of the double or on top of another single, but it may be possible to stack two doubles on each other.
See Also
Community content is available under
CC-BY-SA
unless otherwise noted.