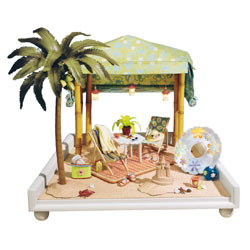 The Cabana (also known as the Cabana and Accessories) was an American Girl Minis rooftop set. It was released in 2002(?) and retired in 2003 with the rest of the line. Retail cost was $65.
Floor
Floor that replicates sand.
Beach Mat
Reversible mat
Canopy
Reversible canopy
Palm Tree
Palm tree with yellow fruit.
Chairs
Two chairs with reversible slings.
Beach Lanterns
Bucket
Shovel
Shells
Sand Castle
Crab
Tropical Plant
Beach Towels
Two beach towels.
Transistor Radio
Inner Tube
Clear inflatable inner tube.
Beach Ball
Beach Bag
Bag can hold sandals.
Sandals
Flip-Flips
Sunglasses
Sunscreen
Trivia
The Tiki Party Set was advertised as a potential add-on to the Cabana set.