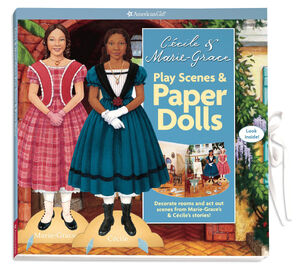 Cécile and Marie-Grace's Play Scenes and Paper Dolls is a set of paper dolls focusing on Cécile Rey and Marie-Grace Gardner. It was released in 2011.
Dolls
Storage
Outfits and Accessories Represented
Cécile
Summer Dress[1]
Shawl-Collared Dress
Work Outfit
Marie-Grace
Summer Dress[1]
Navy Floral Dress
Work Outfit
Accessories
Hair Bows
Gloves
Sewing Basket
Flower Vases
Purses
Parasol
Head Kerchief
Mask
Binoculars
Drop
Fan
Mirror
Trunk with costumes
Harp
Music Sheets
Bust
Watering Can
Beignets
Two Paintings
Photograph
Lantern
Cookies on Tray
Chinese Folding Divider
Pallet and Paint
Paint supplies
Clock
Bread in Basket
Menu
Pitcher and goblets
Jacks and Ball
Tree
Cécile's Doll
Teapot and Cups
Parrot in Cage
Furniture
Light post
Music Stand
Birdbath
Easel and painting
Table
Chair
Bench
Background Scenes
Trivia
A pre-order bonus for Marie-Grace and Cécile included a set of smaller paper dolls; this included some of the outfits and accessories all on cardstock.
References
Community content is available under
CC-BY-SA
unless otherwise noted.