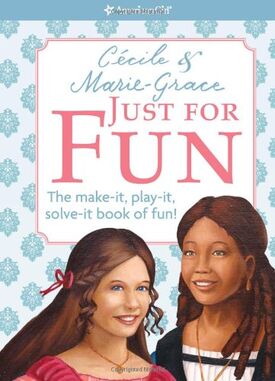 Cécile and Marie-Grace's Just For Fun was a Just For Fun book that focused on Cécile Rey and Marie-Grace Gardner.
Book Contents
Things to Make
Make a Mask
Bookmarks
Draw Argos
Quote Notes
Draw Cochon
Make a Paper Chandelier
Make a Storage Box
Make Petite Pecan Pies
Games to Play
Making Market Board Game
"Marie-Grace, May I?"
Masquerade
Word Race
New Orleans Concentration
There's a Parrot in the Parlor!
Dominoes
Me and You
Puzzles to Solve
Curly Crossword
Pleased to Meet You
French Lesson
French Quarter Street Search
Sewing Supplies
Papa's Wise Words
A Night at the Theater
Philip's Maze
Mathilde's Gift
Mississippi Maze
Sticker Sodoku
Call for a Carriage
Music Makers
Costume Word Search
What's the Difference?
Cathedral Scramble
In the Garden
Maze to the Stage
Where's Argos?