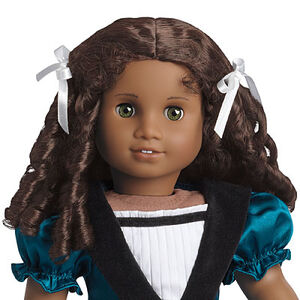 The Cécile Rey doll was released in 2011, along with Marie-Grace Gardner. Cecile was retired in 2014.
Cécile Doll
Skin: Dark
Hair: Dark brown with red highlights, curly, center part, two pairs of ringlets at temples.

Cécile's hair came with her hair partially pulled up on either side by plastic ties.

Brows: Feathered.
Eyes: Hazel
Meet Outfit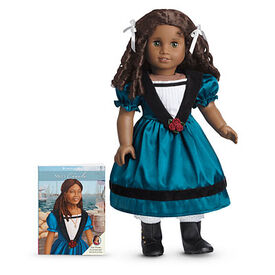 Cécile's meet outfit is intended to reflect the more urban fashions of living in a large city to as opposed to her era-contemporary of Kirsten Larson and compliments Marie-Grace's meet outfit. Hers is more richly decorated and of fancier fabrics and trims as her family is considered wealthy.
Dress
Dark teal silk calf length dress. White pleated bodice panel with velveteen black shoulder long collar and black velvet ribbon at top. Knot of three red silk roses with green leaves at waist on panel. Full lined short puffy sleeves. Black velvet ribbon trim at skirt hem. Velcros at back.
Pantalettes
White cotton pantalettes. Eyelet lace at hem. Elastic waist.
Stockings
White semi-sheer knee high stockings.
Boots
Black ankle boots. Scalloped faux closing with gold buttons. Velcro closure up back.
Hair Ribbons
Two white silk hair ribbons.
Meet Accessories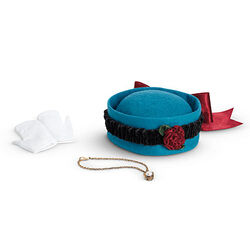 Hat
Dark teal felt sculpted round hat. Black ruched ribbon around brim. Gather of dark red silk flowers with dark green leaves at left side. Red satin ribbon bow at back.
Necklace
Metal bronze pendant on chain. Pendant has faux pearl.
Gloves
White wrist gloves. Gloves have stitching on surface to simulate finger separations.
Mini Doll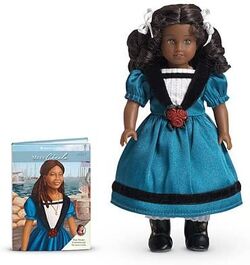 Cécile received a mini doll in her meet outfit. Unlike other archived American Girl historical characters such as Kirsten, Cécile and Marie-Grace's mini dolls were entirely retired with BeForever in 2014.
Trivia
A paper doll set was included as a bonus for preordering either Cécile or Marie-Grace prior to their release.