Jurassic World: Dominion Dominates Fandom Wikis - The Loop
Play Sound
"Cécile" redirects here. For the doll, see Cécile Rey (doll). For the Girls of Many Lands character, see Cécile Revel.
Cécile Rey is the eleventh Historical Character, representing 1850s New Orleans. Cécile was released in 2011 along with Marie-Grace Gardner.
In May 2014 American Girl announced that they would archive Cécile's entire collection; she, Marie-Grace Gardner, and their collections were archived prior to the BeForever relaunch. Their books remain available for purchase.
Personality and Facts
Cécile comes from a well-to-do and highly regarded family in the New Orleans free people of color community. Her nickname, Cécé, is a diminutive of her first name. She is popular and has many friends in contrast with Marie-Grace, who is new to New Orleans as she has not lived there for some time.
Cécile is confident, outgoing, curious, and loves the limelight and likes to be original. She is always full of clever ideas and can be quite mischievous; American Girl Publishing also describes her as bold. Cécile loves to make others laugh and to perform. While Cécile can occasionally be outspoken at times, she is also shown to be sensitive and caring; examples include teaching Marie-Grace French and spending time with elderly people of color at La Maison. Cécile is very good at keeping secrets, keeping Armand's desire to become an artist rather than a stonecutter a secret from Papa and Marie-Grace's secrets. She shows a talent for storytelling (similar to her grandfather, Simon Rey), recitation, and poetry when she volunteers her time at the Holy Trinity Orphanage. She, along with her family, is Catholic.
Cécile shows personal interest in distant lands, traveling, and adventures; she loves to hear the exciting adventurous tales her Grand-père tells her and is in awe of Marie-Grace's experiences. Unlike Marie-Grace, Cécile is tutored at home rather than attending a school with others.[5] She finds her lessons to be boring and especially dislikes writing. Cécile takes voice lessons with Marie-Grace; unlike Marie-Grace, she doesn't feel very good at singing.
Cécile is somewhat interested in clothes and her appearance--she often tries to avoid getting her clothes dirty and thus is not as fond of Marie-Grace's dog Argos, who often has muddy paws--but not to the degree of girls such as Agnès and Fanny Metoyer.
She loves parties and one of her dreams is to become a famous stage actress and thus, dance at parties every night.
Family and Friends
Family
Friends and Other Characters
Books
See: List of Marie-Grace and Cécile's Books
Main article: Cécile Rey (doll)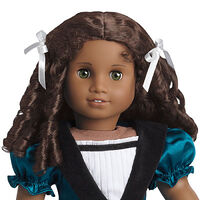 Collection
See: Cécile's Collection
Trivia
See also
References