This article is about the Girls of Many Lands character. For the Historical Character, see Cécile Rey.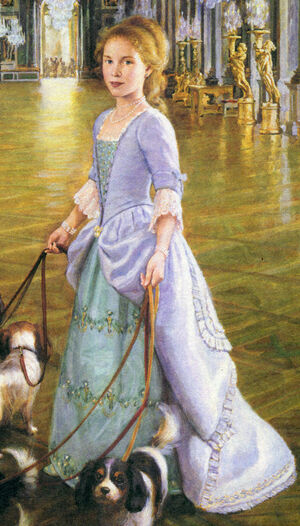 Cécile Revel was one of the first five Girls of Many Lands, representing France during Pre-revolutionary France. Cécile Revel was released in 2002 along with Isabel Campion, Chou Spring Pearl, Minuk, and Neela Sen. She is the primary character of Cécile: Gates of Gold.
Personality and Facts
Cécile Revel is a twelve year old girl living in Versailles, France in 1711. She is a very trustworthy, loyal girl. Her father, unlike others, lets Cécile speak her mind and values her opinion. Cécile is more on the shy and quiet side, however she is very capable. Cécile is well-educated, and has very good manners. She is known to have a calming effect on animals and seems to have a way with children. Cécile loves her father very much, and is very empathetic to other people and their situations. Cécile shows genuine compassion for people, and often risks her life courageously to help others. Cécile loves fancy things and is very imaginative, but does not like conflict or gossip and rumors. She befriends a court page named Philippe, who has a crush on her.
With her lovely and charming personality, she instantly wins the hearts of many at court.
Book
Cécile: Gates of Gold by Mary Casanova
Doll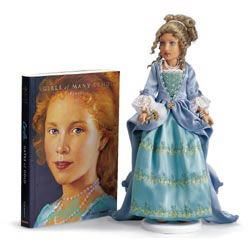 The Cécile doll was intended for display only. Her dark blond hair comes in an upswept bouffant curled style with stray loose curls and she has blue-aqua eyes. The components of her outfit were:
Blue silk gathered overdress with aqua patterned and gold thread stomacher, blue and green trim, lace and ribbon bows at cuffs, buttons at side gathers, gold and emerald brooch at front point, and blue, green, and gold ribbon trim at back of skirt
Aqua underskirt with gold, blue, and green pattern decorations
White over the knee stockings with bow trim
Fringed brocade mule shoes with the letter "C" embroidered on each shoe
Pearl hair decoration
Emerald earrings
Double chain pearl necklace
Two triple strand pearl bracelets with peach cameos
Ostrich gold and emerald feather fan (when new in box, this was stored with the stand)
Community content is available under
CC-BY-SA
unless otherwise noted.