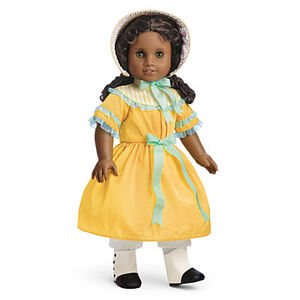 Cécile's Summer Outfit was a limited edition outfit introduced to Cécile's Collection in 2012 and retired in 2013. It is associated with the book Troubles for Cécile. Retail cost was $36.
Dress
Bright yellow calf satin "silk" dress. Double rows of same ribbon form gathered ruffles trimming the elbow-length sleeves and the join between the main bodice and the curved yoke. Pale aqua sheer ribbon bow at center front waist with long V-cut tails. Yoke is made of striped material with yellow and white stripes running vertically in yoke and horizontally in the high band collar. Dress closes up the back with Velcro.
Bonnet
Pale ecru "straw" poke-style bonnet. Wide pale aqua ribbon trimming outside of brim and forming V-cut streamers to tie under chin. White pleated ruffle inside brim. Four daisies nestled inside brim on left side of doll's face.
Boots
Eggshell white button calf boots with slope-to-back top. Black non-functional buttons along straight side "opening". Black toe caps. Black soles with low heels. Close at center back with Velcro.
These are similar to the boots that come with Marie-Grace's Party Outfit; the difference is these books are matte and those are gloss/patent on the white