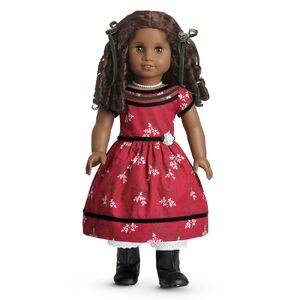 Cécile's Special Dress was introduced to Cécile's Collection in 2011 and retired in 2013. It is associated with the book Cécile's Gift. Retail cost was $28.
Dress
Red short-sleeved boat necked dress. Sleeves have a slight gather to top edge. Floral black and white print on fabric. Black and moss green velvet trim on front bodice; green velvet trim over sleeve gather; black trim at waist, sleeve edge, and bottom of skirt. White ribbon rosette at left side of skirt with green ribbon "leaves". Velcros up the back.
Necklace
String of faux pearls. Gold clasp.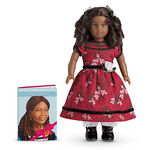 Hair Ribbons
Two moss green velvet hair ribbons. Matches the velvet trim on the dress.
Trivia
A special edition mini doll of Cécile wearing her Special Dress and an abridged copy of Meet Cécile was released in 2011 to celebrate American Girl's 25th anniversary.