Cécile's Parlor Outfit was introduced to Cécile's Collection in 2011 and retired in 2014 with Cécile's archival. While it is not associated with any particular book, it is seen in illustrations for Meet Cécile and Troubles for Cécile. Retail cost was $28.
Blouse
White cotton long sleeved blouse. Collar with eyelet lace trim. Puffed cuffed sleeves. Velcros up the back.
Skirt
Dark purple and gold print calf length cotton skirt. Print of small diamonds and stylized clovers. Elastic at back of waistband for ease in pulling onto doll.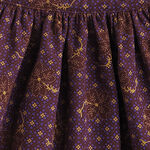 Jacket
Gold semi-sheer taffeta bolero-style short sleeved jacket with dark purple runched ribbon trim. Trim is around opening, sleeves, and waistband, and two straps make up the closure. Four purple non functional buttons on front straps. Velcros on the right side under the buttons.
Hair Ribbons
Two purple silk hair ribbons.