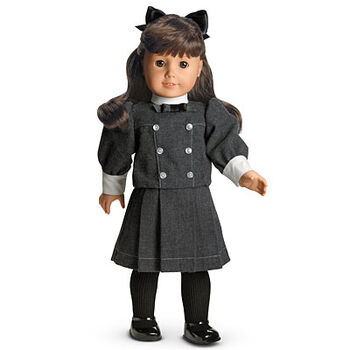 The Buster Brown Dress (also known as Samantha's School Dress) was introduced to Samantha's Collection in 1986 and retired in 2008. It is associated with the book Samantha Learns a Lesson. Retail cost was $20 and was later raised to $22.
Dress
Grey flannel drop waisted dress with white collar and cuffs. Pleated skirt. Six white buttons in two rows on bodice. Black bow tie at neck. The front bodice and the hem of the skirt are topstitched in white. Velcros at sleeves and up back.
Hair Bow
Black satin hair ribbon.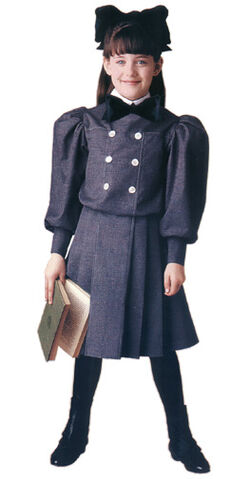 The matching outfit was available:
A pattern was also available. The outfit was phased out around 2000.
Trivia
Buster Brown was a popular newspaper comic character of the era; the dress is intended to evoke his clothing style as drawn in the comics, where it was a boy's suit.
Images released in 2021 for the 35th anniversary revealed that Samantha's meet outfit at early stages had been designed to look like this outfit paired with high-button shoes.