Bridget O'Malley is the younger sister of Nellie O'Malley and a relative to Samantha Parkington.
Basic Facts
Family
Personality
Bridget is the middle O'Malley sister. She is seven when she is first seen in Samantha Learns a Lesson. At first she and Jenny were nervous about school but after the first day they were very excited about going back because of the interesting things. She is said to have a high, fluty voice. She has a teddy bear named Fred and greatly loves stories, especially scary ones.
Unlike Nellie, she and Jenny are easily adjusting to their new well-to-do-life; this is most likely due to their age. However, she does miss her parents and cries in her sleep about them. She and Jenny have a private tutor after being adopted.
Bridget was with Nellie on the day that Grandma Kildany cursed Mr. Raven.
In The Books
Bridget is mentioned (but not named) when Nellie tells Samantha about the day Jenny (also not named) was born. The two girls were sent out with an uncle (possibly Uncle Mike) to keep them out of the way.
This is the first appearance of Bridget. She has a minor role, however, and only appears before and after Nellie's first day of school. She tells Samantha that there are thirty desks in her and Jenny's classroom and that they put their lunches in the clock room. Samantha corrects her by saying it is called the cloak room.
Throughout most of the book, Bridget is at Coldrock with Jenny and Nellie until Samantha rescues them, and brings them to live with the Edwards. Bridget is still weak after being sick with influenza and Mrs. Frouchy thinks she is lazy. Nellie tries to do Bridget's work to keep her from being punished. When the Edwards visit, Gard gives Bridget a peppermint. The three girls hide in the attic until Gertrude reports them. Then Gard and Cornelia let the three stay with them.
Bridget is seen with Jenny being read to by Gardner, begging for more of the story while sitting in his chair. She has adjusted well to their new well-to-do life. When Nellie tells her and Jenny to get ready for bed, they both protest and beg Gardner not to go. Cornelia is the one that reminds Nellie that she does not have to bathe the girls, as Gertrude can take them for their bath. She hides her face against Gardner when Gertrude comes to take them to bathe, but is persuaded with a story from Samantha.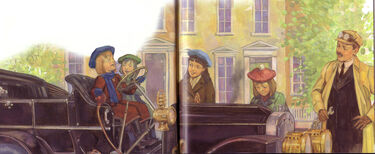 At the settlement house, Mrs. VanVorst says she misses Jenny and Bridget and their love of stories. After being disturbed by the conditions at the settlement house, Samantha is even more doting on her and Jenny, tucking a curl back. That night, when a storm scares her and Jenny, they run into Samantha and Nellie's room and insist on sleeping in their bed that night.
When Gardner suggests a motorcar ride, she is eager to go. When the car won't start, she and Jenny get restless and climb up front to pretend to drive, making a lot of noise. She calls to Samantha to get in to pretend to be their passenger. She and Jenny bounce so much the car rattles; they stop when Nellie tells them to, but start back up. When Bridget honks the horn by mistake she and Jenny start laughing. Nellie scolds them and Bridget calls her a spoilsport. Samantha persuades the girls to go inside while Nellie and Gardner tinker with the car. Gardner calls them the "gleesome threesome" and Nellie feels left out. She continues to feel distant from her sisters for most of the remainder of the book.
Bridget, Jenny, and Nellie are all adopted by the Edwards.
Bridget and Jenny get chicken pox.
It is revealed that Bridget is a fan of scary stories. Bridget and Jenny play with a dollhouse model of Piney Point and make loons out of pinecones with Samantha and Nellie.
Samantha's Surprising Birthday
She, Jenny and Nellie are guests at Samantha's birthday party.
Bridget, Nellie, and Jenny are first seen heading into the Ryland home. They are all there to help with the housework. Later when their father dies, she and Jenny are sent to the Cold Rock Orphanage and separated from Nellie. Samantha later helps the girls escape and hides them in the attic of her home for the time being.
Bridget eventually comes down with a high fever after her time at the Cold Rock Orphanage; it is her illness that makes Samantha reveal she has brought the O'Malley sisters to her house.
In the end, the three girls are all adopted by the Edwards.
Bridget is played by Hannah Endicott-Douglas
Trivia
In the original illustrations by Nancy Niles and Luann Roberts, both Bridget and Jenny were illustrated with blonde hair. Revised illustrations by Dan Andreasen gave Bridget blonde hair and Jenny dark brown hair.
Bridget and Jenny also appear as characters in Samantha's Mystery Party Game
Community content is available under
CC-BY-SA
unless otherwise noted.