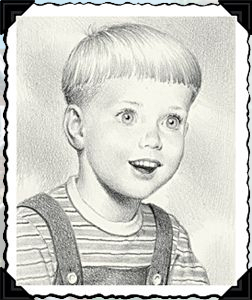 Brad McIntire is the younger brother of Molly McIntire.
Facts
Family
Personality
Brad is Molly's younger brother, who is five years old at the start of the series. Although he is described by Molly as being a little pest, his behavior does not show how he antagonizes Molly in any way or form.
In the Books
Brad goes trick-or-treating as a ghost with his mom. Later, as Jill's and Dolores' punishment for laughing at Ricky, they have to look after Brad.
Brad, while listening to the radio, says that maybe the plane Dad's gifts were on got shot down by enemy planes. He asks Mom if the planes will shoot Santa down, and she assures him Santa will be safe. Brad says good, as he wanted a soldier's helmet and canteen for Christmas. As Mom puts Brad to bed, Jill pities Brad, saying that he'll be disappointed when all he gets from Santa are boring gifts like socks. He later goes shopping with Mom, carrying pennies he'll need to buy gifts. On Christmas Day, Brad is the first to notice Dad's gift box under the tree. He then receives an authentic soldier's helmet and canteen, which he drinks his juice out of.
When the blackout alarms go off, Brad assures Emily that she's safe and the blackout is just pretend. Brad later bursts into Molly's and Emily's room, saying Happy Birthday and leading the rest of the family into the room.
On the day that Molly gets sick, Brad is already downstairs with their mom, and he is seen briefly then, already dressed up in his suit. He also goes with his mom, Jill, and Ricky to the show.
Throughout the book, Emily notices that Brad seemed to think that it was his duty to make sure that Emily was never hungry or upset, despite his age. He offers Emily part of his toast, he proclaims he likes oatmeal when everyone complained about the daily oatmeal they got due to Emily, and he keeps her company as she practices the flutophone. Emily treats Brad politely, never laughing at his actions.
When Molly explains that she lost the class's war bond money, he helps his siblings search the house for it.
Brad does not appear.
Community content is available under
CC-BY-SA
unless otherwise noted.