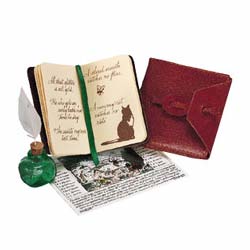 The
Books and Supplies
were introduced to
Josefina's Collection
in
1997
and
retired
in
2003(?)
. It is associated with the book
Josefina Learns a Lesson
. Retail cost was
$14
.
Speller
Spanish Speller (silabario). The front is an image with various items, and words in Spanish alongside in two columns and a paragraph at the bottom. The back has English translations of the front.
Ledger
Leather covered ledger. Closes with knotted cord attached to cover and through front flap hole. Twelve pages sewn book style to back cover. First pages document data on the Montoyas' weaving plans and Andres Montoya's signature--first in Spanish, then with English translation. Rest of pages blank.
Inkwell
Green glass inkwell. Removable cork closure.
Quill Pen
White quill.
Notebook
Notebook (cuaderno). Faux brown suede cover with green ribbon bookmark. All pages are written on, with sayings and riddles, along with signatures for Francisca Montoya and Josefina Montoya. First pages are in Spanish, with English translations in second half.
Community content is available under
CC-BY-SA
unless otherwise noted.