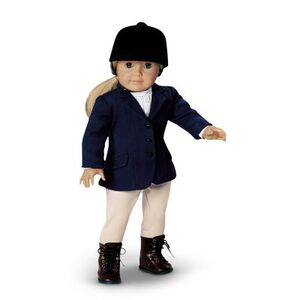 The Blue-Ribbon Riding Outfit is an American Girl of Today outfit released in 1998 and retired in 2004. Retail cost was $26.
Jacket
Royal blue riding jacket. Two Functional pockets on the left and right. Four vertical buttons.
Blouse
White and blue striped long-sleeved shirt. High collar.
Breeches
Cream-color breeches with stirrups. Inner thigh padding.
Helmet
Navy blue riding helmet. Functional navy grosgrain ribbon straps; velcro at the ends, attached to the helmet with a small grommet inside. The plastic was flexible (rather than hard like a real riding helmet) and covered in dark (black or navy) flocking.
Boots
Brown faux leather calf high riding ("paddock") boots. Brown workable laces; from bottom there are three pairs of eyelets followed by two hook-straps on either side, followed by a final eyelet set. Small rectangular stop on back of shoe.
Variations
There were variations on the jacket over the lifespan of the outfit, with some jackets having functional buttons, and others closing with velcro and featuring non-functional buttons.
See Also