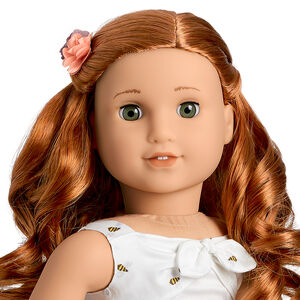 The Blaire Wilson doll was released in 2019 and will be available until retirement. She is considered the Girl of the Year for 2019.
Blaire Doll
Skin: Light
Hair: Red curly, mid back length. Comes styled in a waterfall braid.
Eyes: Green
Meet Outfit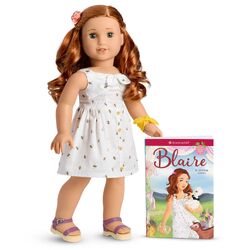 Dress
White above the knee sleeveless sundress with allover print of tiny black and yellow bumblebees with pale blue wings. Shirred smocking at side front bodice panels. Diagonal layered panels on front of dress; these are attached at armholes and neckline edge, then gathered to one point at center front neckline. Self-fabric knotted bow at center front neckline, aligned with the panels. Placket down front of skirt trimmed with four nonfunctional yellow buttons. Dress fastens in the back with Velcro.
Bracelet
Bright yellow cloth wristband. Fastens with Velcro. Self-fabric knotted bow at center of bracelet.
Hair Comb
Silver metal hair comb with four prongs. Two satin flowers; one blush pink and the other mauve lilac.
Sandals
Simple purple faux-leather sandals. Silver nonfunctional buckle at outside of ankle hiding Velcro closure. Pale tan thick plastic soles with cutout at arch.
Underwear
Pale pink underpants. White elastic trim at leg holes and waistband.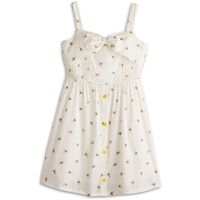 The Garden Bee Dress for children was available for a cost of $48.
Trivia
Blaire was the second and final Girl of the Year to be released with the new eye style. American Girl had slowly rolled out this eye design since the release of Nanea in mid-2017. After online backlash in 2018, the company chose to revert to the classic eye design, but after Blaire dolls had already been produced. Starting in Blaire's debut month of January 2019, dolls could be sent in for a free eye exchange through the end of the year. Later waves of production featured Blaire with the classic eyes.
See Also
Community content is available under
CC-BY-SA
unless otherwise noted.