"Blaire" redirects here. For the doll, see Blaire Wilson (doll).

Blaire Wilson is the seventeenth Girl of the Year released by American Girl. She was released in 2019.
Character
Blaire is a ten-year-old girl who lives on the Pleasant View Farm Bed-and-Breakfast. She is very creative, responsible and hard-working, and is good at improvising solutions to the unique problems that can arise on her farm. She loves her family, even though she often finds her younger brother annoying, and she loves caring for the animals on the farm- such as Penelope the lamb, Dash the goat and Dandelion the Silkie chicken. Her favorite thing to do is to help her Mom cook meals for the guests in the kitchen.
She enjoys spending time on her tablet, to play games or talk to her friends, but she can sometimes get too caught up in it and forget to talk to people in reality. She also can get too focused on her plans, such as when she spent her entire summer planning a wedding and forgetting to spend time with her friends.
Blaire's love of cooking becomes challenging when she finds out she is lactose intolerant, and will have to go dairy-free for some time. While she and her Mom experiment with dairy substitutes, she finds her allergies embarrassing and doesn't like to bring them up.
Family and Friends
Family
Daniel Wilson: Blaire's father.
Maggie Wilson: Blaire's mother.
Beckett Wilson: Blaire's younger brother.
Ben O'Connell: Blaire's maternal grandfather.
Friends
Theodora Dimitriou: Blaire's best friend.
Amadi: Blaire's friend.
Piper: Blaire's friend.
Victoria: Blaire's friend.
Rosie: Blaire's friend.
Sabrina: Blaire's friend.
Books
See: Blaire Wilson (doll)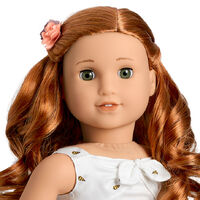 Skin: Light
Hair: Red
Eyes: Green
Collection
See: Blaire's Collection
See Also
Trivia
The back cover summary of first-print copies of Blaire states Blaire having a food allergy, when it is mentioned in the book and press materials that Blaire has a food sensitivity. The error resulted in Blaire Cooks Up a Plan having a section dedicated to explaining the differences between a food allergy and food sensitivity.[3]
References
↑

Bluefield is a fictional location.

↑ American Girl, Spokin.com, accessed March 16, 2019.
Community content is available under
CC-BY-SA
unless otherwise noted.