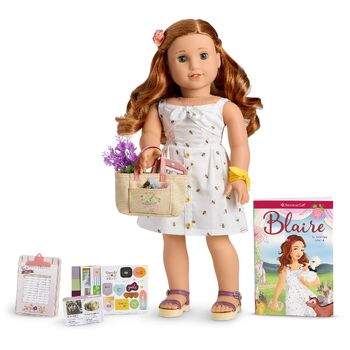 This is a list of all the items that are available for Blaire Wilson. As Blaire is a Girl of the Year, she and her items were released for 2019 and will only be available from then until finally retiring. As of 2021, the only available item is the doll and books.
Items in italics other than books have been retired.
Doll
Blaire comes with a paperback copy of Blaire.
Outfits
Accessories
Books
Blaire's Starter Collection
Blaire did not have a starter collection upon her debut. Customers were offered purchase of the doll, meet book, and Blaire's Accessories for a $5 discount on the accessories.
Debut Giveaway Item
Blaire's giveaway item was a striped apron.
Bundle
References