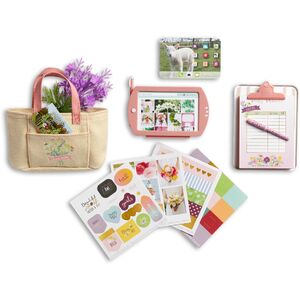 Blaire's Accessories are part of Blaire's Collection. They were released in 2019 and retired in 2020. The retail cost was $30.
Tote
Tan canvas tote bag. Blush pink handles and topstitching. Outside pocket is decorated with a printed bouquet of small wildflowers in shades of green, pink, yellow, purple, and white, which are designed to simulate embroidery. Small bumblebee on left side of bouquet. Printed blush pink banner outlined in white beneath bouquet with white text: "Home GROWN".
Tablet
Blush pink plastic tablet. Large rectangular screen opening. Slot on right side to slide in the screens. Three round pale pink buttons to the right of screen, one slightly larger round pale pink button to the left of the screen. Built-in stand on back of tablet so it can stand upright. Full "American Girl" logo moulded into back. Small slot on left side of tablet to hold the included stylus, which is blush pink with white cap and lower end.
Tablet Screens
Two reversible screens that slide into the tablet. These have a total of four images:
Recipes
Lilac upper bar with "Recipes" in white script at upper left corner. Two recipe titles, with photos and short descriptions, are visible: Blueberry Cobbler and Fettuccine Alfredo.
Image Search
Light aqua upper bar with white search bar, black text reads "party ideas". More black text reading "Home" and "My Boards". Image search results include various flowers, trellises, tables (including the table from Blaire's Party Decorations) and invitations.
Home Screen
Background photograph of a lamb surrounded by green grass near a wooden fence. Icons resemble iOS icons and include Phone, Camera, Messages, Calendar, Notes, Maps, Calculator, Weather, Settings, Music, Photos, and an American Girl app.
Pleasant View Farm
Background photo of wooden fences along a dirt road. It has a sage green upper bar with radish, carrot, and red onion graphic at top left corner. Blank white search bar at upper right corner. Maroon text reading "PLEASANT VIEW" (all caps print framed by leaf graphics) "Farm" (script framed by pairs of horizontal lines). Green all caps "navigation links": Home, Our Story, Visit Us, Catering & Events. White rectangle in center of screen. Title reads "CATERING AND EVENTS" framed by green leaves and a red radish. Plain black text below title reads "Here at Pleasant View Farm we host weddings, dinners, and other private events. Most of our produce comes straight from our family-run farm!"
Clipboard
Clear plastic clipboard. American Girl "inner star" logo molded into back. Decorative vertical stripes in blush pink along clipboard; each stripe consists of a narrow stripe bordered by thin lines. Blush pink functional clip with metal spring.
Pen
Blush pink calligraphy pen. Purple sprigged print. Removable cap conceals metallic golden nib in silver ferrule.
Notebook
Doll sized pad of paper on thin cardboard backing with four different page layouts. "Party Planner" is written in metallic copper script at top of each page. Pages, from outermost page inward include:
Guest List
Blush pink background. White chart in center of page with metallic copper ruling and sage-green label bar. Dark purple text in three columns reads: "Guest", "Invite Sent", and "RSVP". There are eleven rows in each column; "Invite Sent" and "RSVP" are smaller to accommodate a check mark only. Purple "banner" graphic with white text reading "GUEST LIST" at upper left corner of table. Floral graphics in purple, yellow, pink, sage green, peach, and blue at bottom of page and above purple banner.
Menu
Pale green background. Two white charts with metallic copper ruling and lavender label bar with dark purple text. Purple "banner" graphic with white text reading "MENU" at upper left corner of upper chart. Upper table has two columns of six rows each: "Dish Name" and "Price". The lower chart has only one column and is labeled "Shopping List" with seven rows, each with a small square to check off. Purple radish graphic with green leaves in lower right corner of page; magenta "red onion", orange carrot, and green leaves graphics along left edge.
To Do List
Lavender background. Large single white chart (copper ruling) with pink label bar and dark purple text reading "To Do". Purple "banner" graphic with white text reading "TO DO LIST" at upper left corner of chart. Ten rows in large upper section of chart, each with a small square to check off. Outlined box in left side of lower portion of chart labeled "Notes" in dark purple text on a light aqua bar. Small stylized "flower sprig" graphic above banner in green and purple, larger matching graphic covers lower right corner of page and chart and includes a yellow bumblebee.
Mood Board
Lavender and blush pink floral-gradient background. Blank white rectangle centered on page and outlined in metallic copper. Purple "banner" graphic with white text reading "MOOD BOARD" at upper left corner of rectangle. Dark purple text to the right of banner reads "On this page, place images and color chips that will inspire the mood of your party!"
These four pages repeat in this order throughout the notebook.
Bouquet
Pretend bouquet of purple wildflowers. Purple plastic buds and fabric petals, feather shaped green plastic leaves, and thick green plastic stem. Green satin ribbon bow around bouquet stem.
Postcard
Doll sized postcard. Front side shows photo of wooden fences along a dirt road, overlaid with text: "PLEASANT" in cream print, curving over "VIEW" (also in cream print), then "Farm" in pale pink script. "Farm" is framed by light green leaf graphics with a peach flower on each side and three flowers--pink with purple center, purple with peach center, and yellow with purple center. Reverse side has an advertisement for "Manhattan Farmers MARKET" ("Manhattan" in purple italics on white, "Farmers" in white script and "MARKET" in white print on purple banner). Below the banner is black all-caps print listing "Apples*Herbs*Tomatoes Strawberries*Carrots Snap Peas*Blueberries Lettuce Greens*Zucchini Onions*Butternut Squash". Below list is sage green text reading "HUDSON VALLEY GROWERS COOPERATIVE". White rectangle containing text is framed by images of vegetables.
Stickers
Four sheets of stickers:
First Sheet: White background. Stickers right-to-left and top-to-bottom are as follows:
"Beautiful Inside and Out". Black script on white background with yellow, purple, pink, and green floral graphic between "Beautiful" and "Inside and Out". Rectangular.
"AWE". White print on black background. Radiating white lines surround text. Rectangular with rounded corners.
"Love it!". Black script on pink-to-amber horizontal gradient. Oval shaped.
"Celebrate!". Pink script on white background. Border of evenly spaced sage-green hearts. Small rectangle.
Small pink flower with dark purple center on white background. Circular.
"YUM!". Multicolor text on white background--green Y, pink U, blue M, amber exclamation point. Rectangular with rounded corners.
DREAM IT! PLAN IT! DO IT!. Dark purple, white, and sage green print on lavender background. Each phrase is a different color and occupies its own line. Upside down symmetrical pentagon shaped with rounded corners.
"Dream BIG". Metallic silver text on light aqua-to-lavender vertical gradient. Three radiating lines on either side of word "BIG". Heart shaped.
"Goals". Light pink script on dark purple background. Irregular shape surrounding text.
Small yellow flower with peach center on white background. Circular.
"be BOLD". White "be" and metallic copper "BOLD" on light pink background. Yellow flower with sage green leaves graphic above and to the right of text. Metallic copper band across top edge. Upside down symmetrical pentagon shaped.
"Busy BEE". Black text on bright yellow background. Two bumblebee graphics framing text. Rectangular.
"Lovely". White script on green background above a graphic of a white daisy. Circular.
Three small metallic copper hearts.
"DONE & DONE". White print on lavender-to-light aqua-to-blush pink-to-peach horizontal gradient. Sideways symmetrical pentagon shaped with rounded corners.
Second Sheet: White outline. Three rectangular stickers in each of five patterns:
Metallic copper hearts on light pink background (three hearts per sticker)
Vertical stripes in white and periwinkle blue
Pale blue sprigs of flowers and dark green stems on bright green background (allover print)
Light pink polka dots on purple
Solid metallic copper
Third Sheet:
White background. All stickers are rectangular photos: four wedding cakes (five-tiered white with pink flowers, three-tiered white with orange and pink flowers and green leaves, two-tiered lavender and periwinkle with pink flower, two-tiered white with cursive "love" topper), one dessert table with multiple cakes on stands, two bridal bouquets (bold pinks and yellows, soft whites and creams), and one close-up of large flowers in various shades of pink.
Fourth Sheet:
Sixteen square color chips. Aqua blue, orange, deep magenta, grayish lavender, bright green, pale pink, teal, medium pink, metallic copper, periwinkle blue, light aqua, faded green, lilac, sage green, dark purple, golden yellow.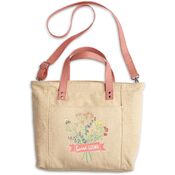 The Floral Tote is available for the cost of $40.
Community content is available under
CC-BY-SA
unless otherwise noted.