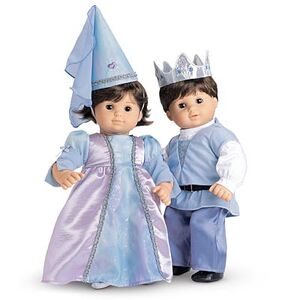 The Bitty Twins Royalty Outfits were a Bitty Twin outfit released in 2005 and retired in 2006 with the revamping of the line. Retail cost was $44.
Girl's Princess Gown
Lavender and light blue empire waist dress with princess seams. Center panel and upper sleeves of blue-and-lavender print. Lower split sleeves of blue chiffon. Blue bows at sleeves. Silver braid trim down seams at front. Velcros at back. Blue-and-lavender print cone-style "princess hat" (a hennin) with chiffon and elastic chin strap. Silver Trim and Bitty Baby Logo embroidered on front. Silver soft-soled slippers.
Boy's Prince Outfit
Blue high necked tunic with attached black belt. Silver trim on blue v-panel at front. White long puff-sleeved undershirt. Blue pull-on pants. Black boots. Silver soft-cloth five pointed crown with embroidered "gemstones."
Book
The Bitty Twins' Royal Rules: Hardcover book.
Trivia