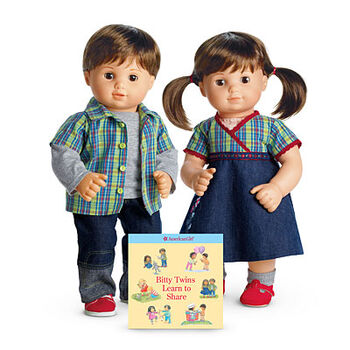 Bitty Twins are a line of twin baby dolls. Launched in 2003 and originally marketed as a boy and girl twin set as a variation on Bitty Baby, they eventually became a moderately separate line available in multiple combinations, while still considered by American Girl to be part of the Bitty Baby line. The line was retired in 2016.
A current version of purchasing two Bitty Baby dolls is marketed as Bitty Baby Twins.
Differences between Bitty Baby and Bitty Twins
Unlike Bitty Baby (who is currently marketed as a girl), Bitty Twins always had distinct defined boy and girl dolls. Bitty Twins have wigged hair of a generally fine, straight texture (with the exception of the "black" Bitty Twins).
Bitty Twins were marketed as slightly older than Bitty Baby. Originally, they were about two to three years old--old enough to be self-mobile and talk, but still in diapers and one piece sleepers. Later, they were remarketed to appear about three to four years old, making them preschoolers; the dolls meet outfits were paired with training pants instead of cloth diapers.
The dolls have the same general body structure as Bitty Babies, so Bitty Baby clothes can be worn on Bitty Twins and vice versa. They are classified the same through the American Girl Hospital when setting up repairs.
History
2003: Original Release
The Bitty Twins were released in 2003 and marketed as young babies only slightly older than Bitty Baby. The set, a blond boy and a blond girl with a topknot, were sold in pink and blue sleepers called the Moon and Stars Sleepers. The girl had an open mouth, while the boy had a closed mouth smile. Clothing was a little more mature than Bitty Babies, with harder soled shoes and outfits for more active play. It was sold in sets that made a matching set of boy and girl outfits.
2004: Brunettes
Brunette twins were released in Fall 2004. Both sets of twins were given new sleepers, the Color Block Sleepers. The mouths were reversed; brunette girls had a closed mouth and brunette boys had an open mouth. The dolls were still marketed as boy-girl sets and could not be purchased individually direct from American Girl. The only way to have a girl-only set or boy-only set was to buy two dolls and sell or trade the unwanted twin to another purchaser.
2006: Remarketing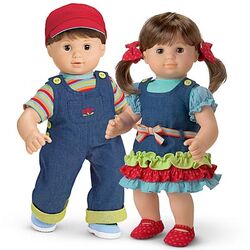 The line was remarketed in 2006, and the dolls were aged up. The girls now had longer hair that reached to the upper back; it came in ponytails that could be easily let down for a short, childish hairstyle. The boy's hairstyle did not change. Dolls were sold with training pants under their clothing instead of diapers.
Additionally, twins could be purchased in chosen sets. The dolls were allowed to be chosen--paired up in varying groups. A purchaser could buy girl-only sets or boy-only sets. The variations in hair color and pairings meant that twins could be purchased in ten combinations of twins.
The clothes were redesigned as well. The twins were sold in the Denim Overalls Outfit for the boy and the Denim Jumper Outfit for the girl. These outfits visually directed the dolls as preschool aged children. At the same time, all of the older clothes sets were made unavailable. Clothing was no longer sold in sets that matched boy and girl. This was also the first time that clothing began to be marketed to young children as part of the Dress Like Your Doll sets in the same way Bitty Baby clothes are, ranging from Girls' size 3-7.[1] Unlike Bitty clothing, this did not have to be modified much to suit a young girl.
Bitty Twins were also given a starter collection that included an extra set of clothing and a twin stroller.
2008: All Races Available
In 2008 after five years of the twins only being available in white, other ethnicities were released along with the new meet outfits of the Plaid and Denim Outfit and Plaid and Denim Dress. While marketed by American Girl by skin tone like Bitty Baby, the newly available dolls can be loosely interpreted as African American, Asian and Latino/Latina (or any ambiguous brown tone). The new girls had closed mouths and the new boys had open mouths like the brunette twins, leaving only the blond dolls with reversed face molds.
With the new dolls the combinations expanded dramatically. Dolls did not have to be matched up by race, and it was possible to choose the same type of doll twice (such as two white blond girls or two Latino boys). This made it possible to have one hundred combinations of the Bitty Twins.
2016: Retirement
The last items for the Bitty Twins, the Pinstripe Pajamas and Pink Polka-Dot Pajamas, were released in Summer 2015. No further items were released, though they remained a part of the product lines and displays.
When the WellieWishers line was released, the Bitty Twins were officially retired and removed from stores. Dolls remained available for purchase online until stock became unavailable.
Single Purchase
Because of the nature of the line and the heavy marketing as twins, buying a single Bitty Twin was not originally available. The option was later offered in stores, allowing customers to purchase a single Bitty Twin both online and at the stores and boutiques for a cost of $75 until their retirement.
Options Available
Clothing and Accessories Available for Bitty Twins
See: List of Bitty Twins Clothing and Accessories
Bitty Twin clothing was originally sold in sets that included an outfit for the boy and girl as it was assumed that a person buying the sets would have a boy and girl doll. With the remarketing in 2006, outfits were available individually since a person could have two boys or two girls. However, this made for a skewing of availability, as more outfits were made for the Bitty Twin girls than the boys. Since Bitty Twins can also wear Bitty Baby clothing, this resulted in a much wider choice of clothing for a girl doll than a boy doll for some time.
When Dress Like Your Doll outfits were available for a set, they were only modeled after the girl's outfit in a boy/girl set and most often only one of the girl's outfits in a girl/girl set.
Bitty Twin Meet Outfits
The first two Meet Outfits for the twins were sleepers that were sold in complete sets for a boy and girl twin.
The revamp of the line in 2006 separated meet outfits into one for girls and one for boys. Like modern meet outfits, they were updated regularly (approximately every two years) to align with fashion trends for young children. Unlike other current modern meet outfits for Bitty Baby and My American Girl, these outfits were made available separately prior to the retirement of the line.
Trivia
See Also
Bitty Baby, the line that Bitty Twins initially were marketed as part of
References and Footnotes