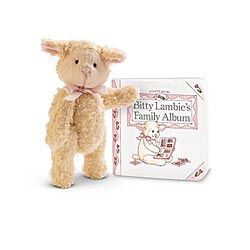 Bitty Lambie is a Bitty Baby accessory and a spin-off of the original Bitty Bear. She (advertised as female) was released in 2002 and retired in 2008. Retail cost was $12.
Bitty Lambie
Ivory plush lamb. Stands five inches tall. Posable arms, legs, and head. Pink ears. Face has shorter fur, black embroidered eyes, and pink embroidered nose and mouth. Pink bow on neck.
Book
Bitty Lambie's Family Album: Board book with mirror on back page. Pages in order are:
Birth Certificate with footprints
Parents
Siblings (Sister Lauren; twin brothers Leon and Larry)
Entire family at yearly "wool gathering" at the ranch
Grandparents: The Woolvertons and the Lamberts
Great Aunt Bonnie "Boo-Boo" Baxter, Great Uncle Bernie "Baa-Baa" Baxter, and cousins Wilbert, Wardell, and Wally
Auntie Lois and Uncle Wooly Woolverton
Bitty Lambie's Baby Picture
Mirror framed with text: My Very Best Friend (implying reader)
Inclusions
Bitty Lambie was featured in the following sets:
Trivia
Bitty Lambie's birthday is September 10th.[1]
See Also
References
↑

Archived Events Page at AG Place Chicago.