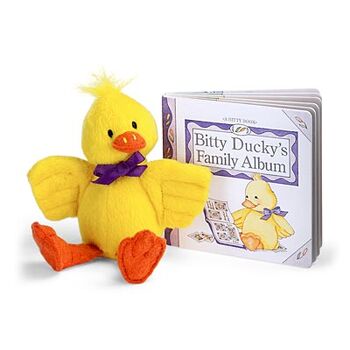 Bitty Ducky is a Bitty Baby accessory and a spin-off of the original Bitty Bear. She (advertised as female) was released in 2002 and retired in 2008. Retail cost was $12.
Bitty Ducky
Yellow plush toy duck. Black embroidered eyes. Orange felt beak and legs/feet; beak has yellow nostril lines and feet have orange webbing stitching. Jointed head. Wings have yellow quilt stitching to simulate feathers. Legs are attached to lower torso seamed in rather than jointed. "Feathery" tufts at top of head and for tail. Purple satin bow at neck.
Book
Bitty Ducky's Family Album: Board book with mirror at back page. Pages in order are:
Birth Certificate with footprints
Parents
Siblings (brother Derrick; sister Donna)
Entire family at family trip to "The Pond"
Grandparents: The Duckworths and the Quackenbushes
Uncle Dogmar, Aunt Doris, and cousins Dougie, Debbie, and Duncan
Great Uncle Quackster McGee and Great-Aunt Isadora Duckworth
Bitty Duckie's Baby Picture
Mirror framed with text: My Very Best Friend (implying reader)
Inclusions
Bitty Ducky was featured in the following sets:
Country Day Set (and included board book, Bitty Ducky's Farm)

Bitty Tees Gift Bag I
Trivia
As Bitty Ducky has wings and attached feet rather than jointed limbs, some outfits and accessories may not fit properly.
Bitty Ducky's birthday is May 6th.[1]
See Also
References
↑

Archived Events Page at AG Place Chicago.