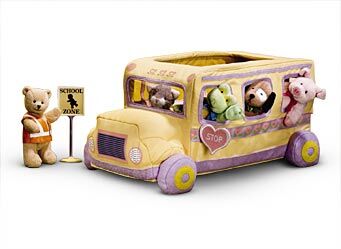 The Bitty Bunch Bus is a Bitty Bear accessory and part of Bitty Bear's Bunch, a spin-off line for Bitty Baby. It was released in 2003(?) and retired in 2008. Retail cost was $34.
Bus
Yellow and purple fabric bus. Bus has moving wheels as well as a side door, back door, and stop sign that open and close. Purple accents around base and windows. Windshield, side door, and back door have clear plastic windows. All other windows are open as well as the top of the bus. Back says "Bitty Bunch Bus" and has a license plate that reads "B1T-TBUS." Side of bus with door has purple ribbon that reads "Bitty Bunch School" with heart accents. Side of bus with stop sign has purple ribbon with pink heart accents. Front has screen printed bus grill and headlights.
Dimensions are 8 1/2" wide, 7" high, and 14" deep.
Safety Sign
Plastic safety sign. Purple pole with yellow stand. Yellow sign with "School Zone" and baby silhouette in black on one side. Opposite side is white and says "Bus Stop" with an illustration of the bus.
Vest
Orange safety vest with white stripe accents. Fits Bitty Bear or other Bitty Bunch animals.
See Also