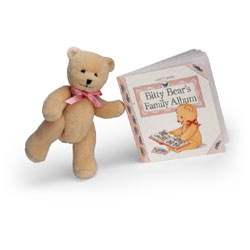 Bitty Bear is a five-inch tall teddy bear that was originally sold with Bitty Baby with the release of the line in 1995 and retired in 2013 with the line's revamping.
Overview and Description
Bitty Bear (who was marketed as female) was included with the purchase of any Bitty Baby doll along with the accompanying book Bitty Bear's Family Album, a board book that introduced the extended family of Bitty Bear. The tan low pile fleece-style cloth cord-jointed bear came with a pink bow around the neck.
Bitty Bear and Bitty Bear's Family Album could also be purchased separately for a cost of $12, where they were packaged in either a clear handled bag with the Bitty Baby logo or the yellow Bitty Baby boxes.
Bitty Bear's birthday is February 20th.[1]
Bitty Bear Accessories
To help tie the doll and bear together in the collection, the majority of Bitty Baby's outfits came with additional small items for either Bitty Bear to wear or use (e.g. a hat or collar, a small riding/sitting toy) along with small board books starring Bitty Bear as an anthropomorphic bear. Some furniture or accessories came with small accessories for Bitty Bear to be included.
Items for Bitty Bear began to no longer be included with sets outside of the board books with the Two-in-One Green Apple Set in 2007; by the next year, 2008, no extra items were included in outfits for Bitty Bear though the included books continued to focus on her as a character. The last book to be paired with an outfit was the Ocean Blossoms Swim Set which came with Bitty Bear's Sprinkler Splash.
After the revamp in 2013, all references to Bitty Bear and all Bitty Bear books were removed from the line, effectively retiring the character.
Bitty Bunch
Other Bitty animals were released for the line in 2002 as the Bitty Bear Bunch or Bitty Bunch. They consisted of the following:
Each of these were available with a family album reflecting their families. The Bitty Bunch were integrated in some outfits and books in place of Bitty Bear and included on various clothing designs, especially in books; the most notable are the three different Bitty Tees Gift Bags which had a collection of bodysuits with each of the characters. Due to similar body construction each character can wear the same accessories that Bitty Bear wears; the exception is Bitty Duckie, who has wide wings and may not fit vests and shirts.
A collection of playsets were released as well:
All additional friends but Bitty Bear and integrated playsets and accessories were retired in 2009.
See Also
References
↑

Archived Events Page at AG Place Chicago.