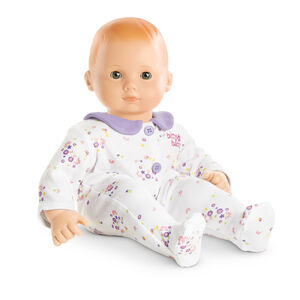 Bitty Baby is a baby doll released by American Girl. Originally marketed as Our New Baby and designed to get children used to a new baby in the family, Bitty Baby was later modified into the current line and marketed as an infant of about one year in age that young children are "caring" for. She originally came with Bitty Bear until 2013, and a plush wishing star from 2013 to 2014; currently, a basic Bitty Baby does not come with any extras. The marketing of the line is similar to the way the Truly Me dolls are, in that Bitty dolls do not come with names and have varying clothing.
Bitty Baby Doll Anatomy
Bitty Baby dolls are 15" tall. They do not have rotating limbs like American Girl Dolls; the arms and legs are attached to the cloth body firmly. The cloth body comes down past the shoulders and thighs. The hair is molded and painted directly onto the head. Bitty Babies have sleep eyes. The neck strings fasten on the left side of the neck.
History
Our New Baby
Main article: Our New Baby
Our New Baby was the predecessor to Bitty Baby and was marketed as a baby doll that could be boy or girl. Clothes were sold for both genders, as well.
Bitty Baby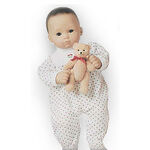 With the release of Bitty Baby in 1995, gone was the marketing of the doll as being either gender. Bitty Baby was now marketed and displayed as a baby girl. She came with Bitty Bear, who starred in the small books that came with Bitty and her outfits. The racial designations were removed from the dolls; they were now marketed by their skin tones like the American Girl of Today.
In 2000 when Mattel took over, Bitty received the harder eyelashes that became standard.
In 2007, extra items for Bitty Bear began to be phased out of the outfits. Outfits would come with toys or accessories, but not always items for Bitty Bear.
In 2011, three new dolls were introduced, a brown-haired, blue-eyed doll; a red-haired, blue/gray-eyed doll; and a blonde-haired, blue-eyed doll. The blonde-haired, grey-eyed doll was retired.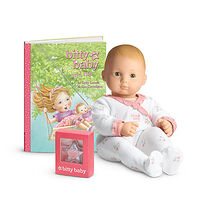 In 2013, the line was revamped; Bitty Bear was removed from the line and replaced with a plush "Wishing Star." Full picture books were released as separate purchases and dolls came with a copy of Bitty Baby and Me (which was also available separately). This led to a cost raise of $80, a significant price rise from the $55 the dolls had been previously.
The line was expanded to include eleven dolls in total (not including the retired doll), which were updated molds for older dolls. Added were a brown-haired, green-eyed doll; a blonde-haired, green-eyed doll; a blonde-haired, brown-eyed doll; and a medium skinned "African American" doll. Various soft, brightly colored stuffed animals for Bitty were released as well, essentially replacing Bitty Bear; the stuffed animals are targeted towards the purchaser and not the doll. Bitty Baby is also less of a character and more of a doll and companion to a younger child in the targeted age range.
In 2015, Bitty Baby dolls no longer came with the book by default, although the book remained available. The plush wishing star was discontinued. The cost lowered back to $60 from $80 because of the removal of the book bundled with the doll[1].
Later that year, a change in meet outfits was made, offering three options; a new doll purchase also came with a song download. Six of the dolls were retired: Dark brown hair with blue eyes; red hair with blue-grey eyes; the medium skinned "African American"; blonde hair with brown eyes; dark brown hair with green eyes; and blond hair with green eyes. A red-haired, hazel-eyed doll was released.
Visual Gallery of Bitty Babies
Italicized dolls are retired.
Bitty Baby Clothing and Accessories
Bitty Baby clothing helps market Bitty Baby as an infant. Most outfits come with soft soled shoes and fit over the diaper.
From 1995 to 2007, outfits almost always came with additional components for Bitty Bear; from 1995 to 2013, outfits often came with a small activity book or story starring Bitty Bear. In 2013 outfits no longer came with books, as the separate picture books were available; some books were tied to outfits. Outfits that have a Dress Like Your Doll outfit will range in for Girls' sizes 3-7 and are generally modified to be less infantile.
Bitty Baby outfits will fit on 18" dolls. Pants are shorter and so appear as capri pants, and skirts can vary. Shoes may or may not fit.
Bitty Babies were originally sold in a white print sleeper that was not available as a separate purchase. This was essentially the first Meet outfit and so all other meet outfits are numbered after this one. Bitty Baby meet outfits are always footed sleepers and come with a cloth diaper. Unlike Bitty Twins or My American Girls the outfits are not generally based on contemporary styles, but are still regularly updated.
With the revamp in 2013, outfits were not available for separate purchase and included a plush "wish star".
In 2015, three Meet outfits were released; only one can be picked at doll purchase, with all outfits available separately. In 2016 another option was offered, the Stripey Sleeper; the others remained available.
Picture and Activity Books
There were seven Bitty Baby picture books from 2013 until about 2015. Unlike previous books that came with Bitty Baby Outfits, these focused on Bitty Baby as a doll to the child reading the book and a companion in creative, imaginative play.
Activity books were also available:
These books were later phased out; currently the only available book is Love from Morning to Night, a book of song lyrics and accompanying song CD.
See Also
References and Footnotes