Bennett is Molly McIntire's dog.
Facts
In the Books
Bennett is gifted to Molly the same time Emily Bennett receives Yank. He is named after Emily and is a Jack Russell terrier.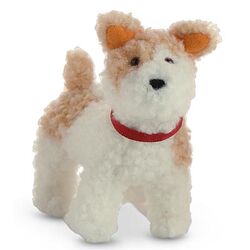 Bennett (originally sold as A Playful Pup) was introduced to Molly's Collection in 1987, updated by 2000, and retired in 2013 with Molly's archival.
Retail price for the Mattel version was $16 and later raised to $20. He could also be bundled with Yank the Dog for $32.
Mattel Version
White stuffed dog with brown spots integrated into the design. Originally came with a removable red ribbon leash and a collar tag with the letter B.
Later versions did not include the leash.
Pleasant Company Version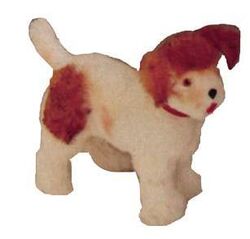 The Pre-Mattel/Pleasant Company version was sold for $18.
This was a hard form dog wrapped in rabbit fur with a visible tongue and dye-added spots. It had a non-removable plastic collar and a red plastic leash.