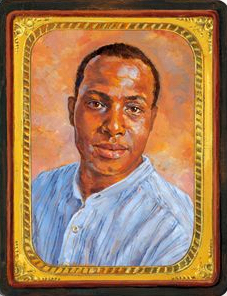 Ben Walker is the father of Addy Walker. She refers to him as "Poppa."
Facts
Family
Personality
Poppa is a strong, brave man. He works hard to protect and care for his family. He is a skilled carpenter. His dreams keep the family alive. He is a proud, determined man, who knows what he wants and sticks to it. He addresses Addy as a "smart girl".
In The Books
Poppa was the carpenter on the Stevens plantation. He is the one with the plans to run the family north to freedom--watching Addy suffering hurts him and he wants his family to be free. He and Sam are sold, however. Addy is crushed at losing her father and brother. With him and Sam gone, Addy and Momma can't take Esther when they run away as they can't carry her.
Poppa walks in during the shadow play, and Addy bolts to him. He cries when Addy reads the note Mrs. Ford leaves, because she can read.
Poppa finds a busted ice cream maker in the trash. He fixes it and says Addy can use it to make ice cream when she chooses her own special day for her birthday. When she chooses April 9, he invites everybody in the boarding house to her tenth birthday party.
He, Ruth, and Addy all work on the garden to help bring Sam and Esther home. He plans a trip to head south to look for Sam and Esther.
Poppa is overjoyed when Addy brings home Esther and Auntie Lula.
Ben and Ruth get remarried in freedom.
Poppa is working on the railroad at Cape Island and brings Momma, Esther, and Addy out to visit.
Addy: An American Girl Story