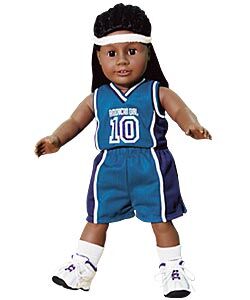 The Basketball Uniform I (also known as the Basketball Set) was an American Girl of Today outfit released in 1999 and retired in 2003. Retail cost was $24.
Tank
Two-tone basketball tank. White trim at armholes, V neckline, and down sides. Front and back panels in cerulean blue, side panels in twilight blue. Fastens up the back.
Shorts
Elastic-waist basketball shorts. White trim at joins between cerulean center panels and indigo side panels. Small slits at side seams to aid in movement. Knee length.
Sneakers
White high-top sneakers with navy blue accents. Navy blue loops hold white laces in place when shoes are laced. Black rubber soles.
Socks
Tall white knit socks.
Headband
White knit headband, worn horizontally across doll's forehead.
Basketball
Doll-sized basketball.
Hoop
Doll-sized basketball hoop.
Ball Pump
Doll sized pump for inflating basketball.
See Also
Community content is available under
CC-BY-SA
unless otherwise noted.