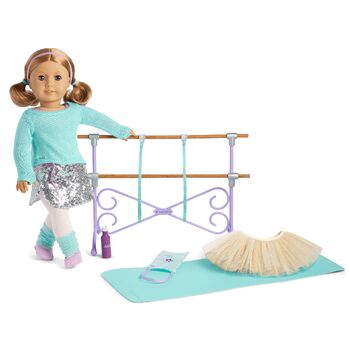 The Ballet Barre and Outfit Set is a Truly Me outfit/accessory set released in 2018 through Costco. Retail cost was listed as $110; Costco marketed the set for $69.99, and it was discounted on the American Girl online store at $66. It was retired in 2020.
Leotard
Lavender scoop neck leotard. Lavender shiny elastic at neck and leg openings. Seven white rhinestones encircle neckline. Low back with criss-crossed elastic in an "x" shape at mid back.
Skirt
Faux-wrap sequined skirt. Fabric consists of silver mini sequins sewn to a net backing, sequins are spaced close enough together to make the fabric mostly opaque. Skirt is lined with a lilac mesh fabric. False double sash detail around skirt waist made of stretchy lilac fabric, more of the same forms a bow at the left side of skirt front. Though the skirt curves up to an overlap in the front, there is no opening, the skirt simply has an elastic waist.
Sweater
Knit light aqua sweater. Wide neckline, long sleeves with thumb holes. Asymmetrical hemline coming to a point lower on doll's left hip than the right
Tutu
Simple pancake tutu. Four layers of fabric, alternating between white mesh and dark gold tulle.  White satin elastic waistband.
Tights
Opaque very pale pink tights. Pale pink elastic with scalloped detail at waist.
Leg Warmers
Aqua ribbed-knit legwarmers with metallic silver threads. These reach from dolls' ankles up to about mid calf.
Headband
Light purple elastic headband. Stitched closed at back with American Girl tag. 
Slippers
Lavender ballet slippers. Single elastic strap over foot is attached to looped elastics that simulate ribbons crisscrossed around doll's ankles. Lavender elastic straps have a slight sheen to them. Matching lavender faux-leather soles.
Hairbands
Two aqua hair bands.
Barre
Two-level dance barre. Purple curlicue heart frame with white "American Girl" logo in darker purple text in center. Frame rests on four rounded "feet" that prevent the barre from skidding or scratching a floor. Brown bars with faux wood texture are attached to frame with silver plastic brackets and are non-removable. .
Straps
Two aqua grosgrain straps. Each strap is sewn into a loop for doll's wrist or ankle at one end with a gray plastic clip on the other end that can hook onto either barre.
Mat
Aqua foam yoga mat with darker blue Aerican Girl logo in bottom right corner. Comes with a carrier that wraps and velcroes around mat to keep it rolled up for storage and travel. Carrier hasa design of  aqua bubbles and lavender stars on a white background with purple innerstar logo. Attached lavender grosgrain carrying strap.
Water Bottle
Purple plastic water bottle. White lid with small handle and spout. Abbreviated logo with the letters AG  in white and an aqua star in between the letters.  
Trivia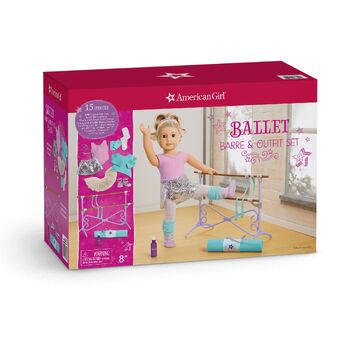 See Also
Community content is available under
CC-BY-SA
unless otherwise noted.