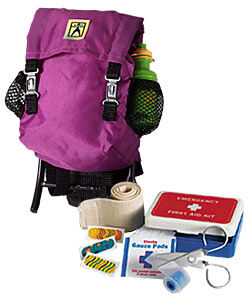 The Backpack Essentials (also known as the Backpack and First-Aid Set) is an American Girl of Today accessory released in 1998 and retired in 2003. Retail cost was $16. The set was paired most often with the Hiking Outfit I and the Orienteering Accessories.
Backpack
Purple plastic hiker's backpack. Fold over closure flap with two plastic clasp buckles and holographic American Girl of Today logo on center; black drawstring closure. Two padded non-adjustable straps, padded adjustable waist strap with black buckle closure, black plastic support frame, adjustable gear straps. Black mesh side pockets with elastic hems.
First Aid Kit
Plastic hinged box. White top of box has red background, with Emergency in white text above a white medical cross; below cross is white text First Aid Kit. Bottom of box is blue.
Box is large enough to hold supplies.
Scissors
Silver metal functional medical scissors. Blunt tips.
Tape
Roll of white medical dressing tape on blue plastic roll. Can be cut with scissors or torn by hand.
Wrap Bandage
Beige elastic wrap bandage, dimensions 1" by 8.25". Velcro closure at one end.
Sticker Bandages
Three adhesive sticker bandages.
Gauze
Three squares of white medical gauze. These come in the gauze pouch.
Gauze Pouch
White paper gauze pouch. Blue and white side borders. Center text has Sterile in red text, Gauze Pads in smaller blue text, red medical cross with blue outline, and This packet contains 3 gauze pads in red small text.
Despite packaging, gauzes are not sterile.
Water Bottle
Green and yellow plastic water bottle. Yellow plastic flip top connected to yellow band at neck, covering green drink nozzle. Three ridges in plastic at top and bottom. American Girl of Today logo in yellow at center.
Water bottle can be filled.
See Also