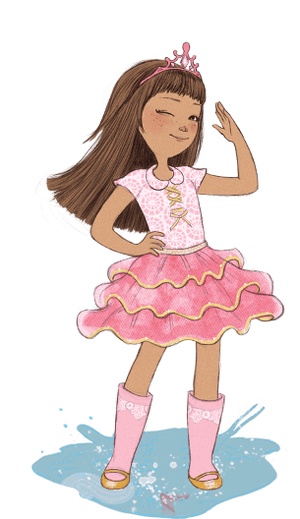 Ashlyn is one of the five main characters in the WellieWishers line.
Personality, Description, and Facts
Ashlyn is an elementary aged girl (with ambiguous ethnicity) with tan skin with freckles, long straight brown hair worn loose with bangs, and brown eyes.
Ashlyn is the supreme "girly-girl" of the group and is also shown to be a "future-princess-in-training". She is the most social and party-focused of the girls--she is known to throw the best parties and loves nothing more than making her friends happy.She is very optimistic and cheerful, with an enthusiasm for anything sparkly or pink.
Ashlyn's signature colors include rose-petal pink and gold. Her outfit includes a pink and gold lace-front top, tiered pink and gold tulle style skirt, and pink wellies with gold glitter and lace designs. She also wears a pink tiara.
Books
While Ashlyn is in all the books, she is the focus of Ashlyn's Unsurprise Party and The Clippity-Cloppity Carnival.
Other Media
Doll
See Ashlyn (doll)
Trivia
As revealed in Episode 4, her favorite animal is a mouse.
See Also
References