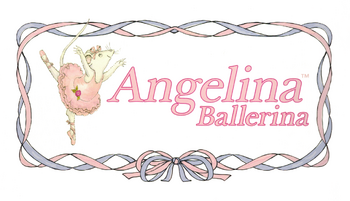 Angelina Ballerina is a children's book series by author Katharine Holabird and illustrator Helen Craig about a fictional mouse, Angelina Jeanette Mouseling, who is training to become a ballerina. The first book in the series was published in 1983 and there have been over twenty books in the series.
The brand was a product line through American Girl from 2001 to 2004.
As an American Girl Product Line
Holabird and Craig licensed products for Angelina Ballerina through American Girl from 2001 to 2004. This line was targeted at young children ages 3+. The line focused on small jointed-plush dolls, clothes, and accessories as well as the hardback books.
Target acquired the rights to the line's license in Spring 2004, and the American Girl products were retired then. Books continued to be written and are now published by Simon and Schuster; licensed products are available through various markets and brands, including animated TV episodes and toys.
Dolls
Outfits
On Stage Outfit

Gymnastics Outfit

Sweet Dreams PJ's

Star of the Show Outfit

Invitation to the Ballet Outfit
Accessories
Angelina's Accessories

Angelina's Stage Set

Angelina's Stage Accessories

Angelina's Gymnastics Accessories
Furniture
Angelina's Storybook Cottage

Bed and Bedding Set

Toy Chest and Dresser Set

Couch and Table Set

Easy Chair and Ottoman Set

Cabinet, Sink and Stove Set

Table, Chairs and Tea Service

Camping Set

Angelina's Magical Magnetic Rooms
Books
Note that while the books were published through American Girl during the duration of the line, the series had existed since 1983; these are just the books published with American Girl.
Angelina Ballerina

Angelina and Alice

Angelina's Birthday

Angelina's Ballet Class

Angelina's Christmas

Angelina's Halloween

Angelina and the Princess

Angelina on Stage

Angelina and Henry

Angelina's Baby Sister

Angelina at the Fair

Angelina Ice Skates

Angelina Ballerina's Invitation to the Ballet
Children's Items
Pink Dress for Children

Angelina's Dress-Up Chest

Angelina Robe

Angelina Slippers

Angelina in the Wings Video

Angelina Ballerina's Dancing Game

Angelina Bedding

Mouse Purse

Angelina Tote

Angelina Sleeping Bag
Trivia
Angelina Ballerina items came in unique packaging. Furniture sets came in pink and white striped cardboard boxes with pink rope carry handles. Clothing came in paper bags with a carry handle, closing flap, and a clear window. Clothing came wrapped in pink tissue paper.
Many, but not all, fabric pieces have an Angelina Ballerina tag in addition to an American Girl one. Plastic and wooden pieces are labeled as both American Girl and 2000 Hit Entertainment PLC.
Links