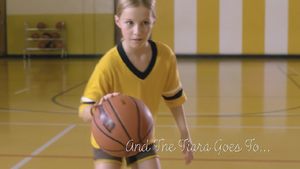 And the Tiara Goes To... is a BeForever short film focusing on Julie Albright.
Cast
Crew
Director and Producer - Melissa Hoppe
Writer - Lisa Kohn
Composer - Nami Melumad
Editor - Steven Wang
Production Design - Sarah Cole
Director of Photography - Daniella Nowitz
Plot
Digital Release
The movie was released on American Girl's YouTube channel on November 12, 2015.
Items Associated With the Movie
Trivia
The pageant in the short film is advertised to be held on Saturday, October 5th. The only year for October 5th to fall on a Saturday in the 1970s is 1974. As a result, the timing would place the short film well before the events of Julie's Central Series.
Links
References