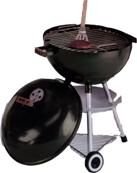 The American Grill was an American Girl of Today furniture item released in 1996, revised around 1997, and retired in 1998(?). Retail cost was $35.
Grill
Kettle-style Weber grill. Has tripod, wheeled base, wooden handles, and removable, vented heat shield lid. Grill interior features a stainless steel, irremovable, handled cooking rack; separate stainless steel charcoal grate with permanent charcoal. Grill exterior features round cooking bowl; removable ash basin; two wooden side handles, and bottom storage grate. Tripod base features two black and white wheels with one straight, black rubber-ended leg. Round lid features a wooden top handle and silver turn vent; both are stamped "WEBER."
Charcoal
Realistic gray barbecue coals. These a permanently adhered to stainless steel charcoal grate.
Spatula
Two versions of the stainless steel spatula exist. one version is a combination wooden-handle, stainless steel spatula and the other version is an all-stainless-steel spatula. Both versions have the same slotted blade design, which appears (from left to right) as a curved slot; straight slot; curved slot or "( | )". Both versions also include a black leather top-knotted hanger strap.
Trivia
Two versions of the grill exist: it is unclear which version is the earliest. One grill version had a black bowl with black lid and an all-stainless-steel spatula; the other version had a dark green bowl with dark green lid and a combination wooden-handle/stainless-steel spatula.
This set did not come with any food to cook on the grill, but it was advertised with the Birthday Cookout.
See Also