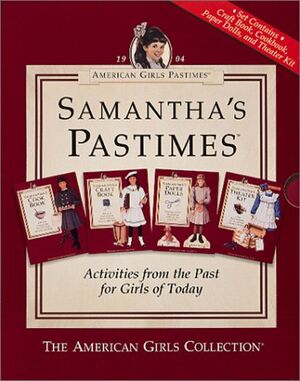 American Girls Pastimes was the name given to the activity sets given to each Historical Character until the release of Kit Kittredge. Billed as "Activities from the Past for Girls of Today," each set consisted of Cookbooks, Craft Books, Paper Dolls and Theater Kits.
Cookbooks featured recipes from each era along with historical facts about food preparation and consumption in the era. Each cookbook had items associated with two "meals" and favorite foods.
These had a small revival as Cooking Studios for selected characters.
Craft Books
featured different crafts of varying skill from simple to advanced. Several crafts were for toys and playthings of the era, as well as interspersed facts of the items crafted and casual time.
Craft Kits were available as well, which included the craft book and several supplies to make three items from each craft book.
Paper Dolls are paper dolls of the characters. These initially included just the character and outfits for her, but was later expanded to include friends and/or family with small sets of outfits.
These were later available in the form of Play Scenes and Paper Dolls, including later released characters.
Theater Kits included four script books and a director's book, with tips, costume ideas, and instructions for putting on a quick 20-minute play based on one of the books in the character's Central Series, written for four to six actors.
As a Set: Pastimes
In sets, the books came in a card stock slip case with the four activity sets, and were marketed as "Historical Character's Name Pastimes." Purchasing the books this way was at a slight discount to buying them individually.
There was also an offer--through American Girl--that would include the four books and craft kits.
See Also