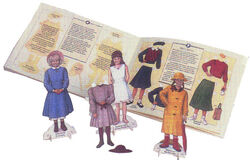 The American Girls Paper Dolls was a set of paper dolls focusing on three Historical Characters: Kirsten Larson, Samantha Parkington, and Molly McIntire. It was released in 1990 and retired in 1992, and was also part of the Portfolios of Pastimes collection.
Overview
The three paper dolls--one for each girl--came on thick cardstock and were able to be punched out. The first pages discussed paper dolls as applied to each historical era represented. Nine outfits for Kirsten, nine for Samantha, and ten for Molly were included along with some related accessories; they needed to be cut out from the pages. Each accessory and outfit was marked with numbers so as to group the sets together. Minor information about each outfit was included on the back, mostly in relation to the stories. Outfits needed to be slashed in spots to allow "holding" of smaller accessories.
A small accessories envelope was included on the back card stock page, along with a cover for the story boxes (so that they could be stapled into a book) and the stands for each doll. The back cover gave instructions on how to tape or glue the edges of the empty book cover together to make a storage envelope for the dolls.
The set was discontinued in 1994 as by then individual paper dolls for other Historical Characters had been released.
Outfits and Accessories Represented
Kirsten is dressed in her Flannel Underwear.
Samantha is dressed in her Lacy Whites, minus the stockings.
Molly is dressed in underpants and an undershirt.
Trivia
References
See Also
Community content is available under
CC-BY-SA
unless otherwise noted.