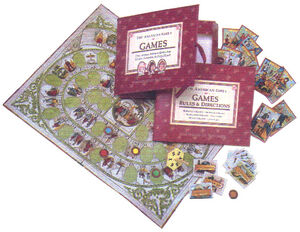 The American Girl Historical Games was a set of games focusing on three Historical Characters: Kirsten Larson, Samantha Parkington, and Molly McIntire. It was released in 1991 and retired in 1994, and was also part of the Portfolios of Pastimes collection.
Overview of the Games
The set contains reproductions of three games that were popular in each era.
Kirsten is given The Mansion of Happiness, a board game based on personal morality. It was one of the first board games produced in the United States.
Samantha is given "What D'ye Buy", a parlor game that allowed a group to tell a funny story called "Mother's Mishaps".
Molly is given Get in the Scrap, which was a board game focusing on gathering scrap metal for the war effort. It was a form of propaganda to persuade children to want to help the US war effort.
Items Included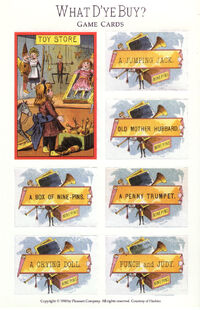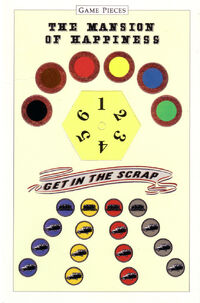 Double sided thick poster paper with a reproduction of the boards for The Mansion of Happiness and Get in the Scrap.
Wooden dowel and disc to make the teetotum for The Mansion of Happiness.
Game pieces for The Mansion of Happiness and Get in the Scrap on cardstock. Six game markers, six sided "die" to recreate the teetotum, and four colored sets of markers for Get in the The Scrap. The sets are red, yellow, blue and grey; each contains one railroad car and three trucks. The page is perforated to allow punching out of the pieces.
Twelve sheets with the game cards from What D'ye Buy?. The stores included are: Furniture, Toy Store, Variety Store, Druggist, Butcher, Hardware, Bakery, Music Store, Fish Market, Grocery, Dry Goods, and Gents Furnishing. Each sheet has the store card and six items that can be purchased at the store, making a total of eighty-four cards. The pages are perforated to allow punching out of the cards.
Stand-up card with the rules for moving around the board in The Mansion of Happiness.
A informational book with facts about games in general, facts about each game, the rules for play, and information about some of the items and words that might not be familiar to a modern child.
Community content is available under
CC-BY-SA
unless otherwise noted.