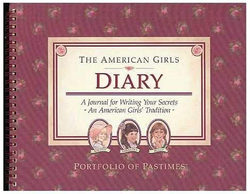 The American Girls Diary was a diary focusing on three Historical Characters: Kirsten Larson, Samantha Parkington, and Molly McIntire. It was released in 1990 and retired in 1994, and was also part of the Portfolios of Pastimes collection.
Overview
The diary was a spiral bound book, with a brief explanation of diaries in the past and the purposes of diaries in past eras. There was a page allowing the user to place a picture of herself and write small, basic facts.
The diary spans a full year, starting with January and ending in December. (The book notes that the journal can be started at any time.) Some important US holidays are mentioned such as Christmas and Independence Day; variable holidays, such as Passover, are not listed. All three girls' birthdays are also listed.
Interspersed are small historical looking clip art images, small and large illustrations from the books of the Central Series, photographs, simulated diary entries in the character's handwriting, encouraging questions, small crafts and activities, and facts and information about the three eras. The last page encouraged the user to sum up the year they had recorded.
See Also
Community content is available under
CC-BY-SA
unless otherwise noted.