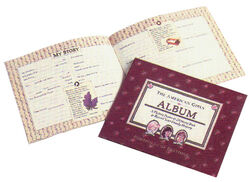 The American Girls Album was a family history album focusing on three Historical Characters: Kirsten Larson, Samantha Parkington, and Molly McIntire. It was released in 1990 and retired in 1994, and was also part of the Portfolios of Pastimes collection.
Overview
The album cover was a thick weight book, with five image cutouts on the front and back inside cover, four squares and a heart. A removable insert had a clear plastic cover over four illustrations from the books Samantha's Surprise, Changes for Kirsten, Meet Molly and Molly Saves the Day; the center heart instructed the user to place family images over the illustrations to make their own family album.
The inner book was a family history album; A family tree was included as well which included both the maternal and paternal side of the family, and a section on ancestry.
The book encouraged the user to write her story and get stories from her mother and two grandmothers--paternal and maternal. The sections were divided and ordered the same way the Central Series were. Intermingled in the sections were small facts and information about the characters and historical eras. The last page was for autographs, so that all members of the family could sign the pages.
Trivia
While the older Molly image was still being used as the portrait on the cover, inner illustrations were the updated ones by Nick Backes.
The book notes in the facts that Kirsten's last name was "Larsdotter" in Sweden, as Papa's name was Lars. This is incorrect, as his name is Anders Larson.
See Also
Community content is available under
CC-BY-SA
unless otherwise noted.