The American Girl of Today Writing Books were a six-book set of blank books that came with the first American Girl of Today dolls. They could also be purchased separately for a retail cost of $9.95.
Overview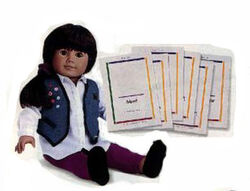 With the launch of the American Girl of Today line, the intention was to show purchasers how history included current events, and that modern children were themselves part of history too. In order to tie the modern dolls to the Historical Characters, the six book set was designed and laid out like the six-book Central Series. This included encouraging the purchaser to create their own "modern" character and including a Looking Back section to discuss themes and current events of the present day.
In 1998, when the modern line was slightly renamed to "American Girl Today," only one blank book--the "Meet" book--and its writing guide were included. By 2000 with the launch of the Urban Outfit, no books were included and the set was then retired.
Books
The books consisted of blank, semi-lined books. The covers are modeled after the Central Series covers of the time, with a blank space for an illustration and place to write the character's name in the title. Subtitles are the same as the Central Series, with the exception of the Meet book being changed to "A Family Story". The top reads "Book [number]" and the bottom read "An American Girl's Story".
Guides
Each book came with a writer's guide. These were written by Valerie Tripp and intended to guide a new writer through writing their own six-book series.
Stencil
A blue plastic stencil. Includes capital and lowercase letters, numbers, and shapes including the American Girl of Today logo.
See Also