American Girl Wiki News: Read All About It!
January 2, 2020 / Disability and Language - New (Clarification) of Policy
Here at the A*G Wiki, we use the appropriate words for disabilities. Which is, in fact, disability or disabled. One of your admins is disabled. People with disabilities want to be called the terms they choose. Joss - as a character - is disabled. This is an appropriate term to use to discuss Joss; she is partially deaf or hard of hearing, and visibly disabled (as in, her disability is visible, not that she has a lack of visibility).
The term "disabled" is appropriate to use to refer to her as a character and a doll. "Cutesy" or covert language that tries to hide disability does not help people or show the actuality of their needs. Do not use cutesy or fluff language, nor condescending or rude language. This falls under our global rule of bigotry.
"It is okay to use words or phrases such as "disabled," "disability," or "people with disabilities" when talking about disability issues." Respectful Disability Language
This has now been clarified on the wiki under Disability and Language.
Nethilia, The Admin
December 31, 2019 / Joss Surfs in for 2020!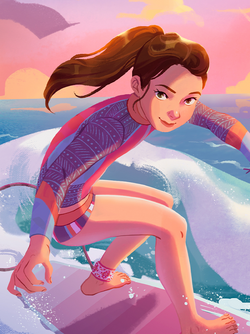 Joss Kendrick has arrived! Along with the doll, her collection is as follows:
Purchasers can include donations to the Hearing Loss Association of America (HLAA).
There's also a small release for Truly Me - the Berry Fresh Collection:
Hip Hip Hooray! Don't get Blocked Today! Read the rules and write articles properly!
Nethilia, The Admin
December 31, 2019 / Joss Kendrick, GotY 2020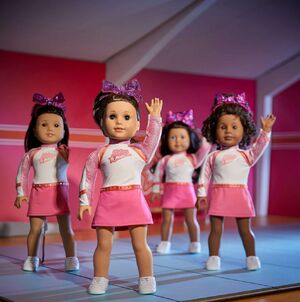 Source: Good Morning America, American Girl's 2020 Girl of the Year is First Doll with Hearing Loss
American Girl through Good Morning America has released information about the 2020 girl of the year, Joss Kendrick, who's a surfer and competitive cheerleader from southern California. Joss has hearing loss--fully deaf in one ear and partially in the other--and comes with a new, unique hearing aid. She also has a new face mold, the Joss Mold. AG worked with experts in hearing loss as well as portraying deaf characters; furthermore, they've also announced a $25,000 donation to support the work of the Hearing Loss Association of America (HLAA).
Items will be released on the website and in previews at stores starting today, December 31st.
It's a whole new new release in a new decade - but the rules remain the same. We want good information, proper descriptions, and good pictures of items in the collection. The admin block finger stays itchy, especially in those first days of a new release when people suddenly act like they can't read the rules.
Nethilia, The Admin
December 29, 2019 / Banning for Leaks and Updates To The Rules
Please check updates to the Rumors, Leaks, and Hearsay rules. Specifically, that we do not accept YouTube reviewers or product hint videos as sources for upcoming product. Especially not for pictures. A screen cap is not a good picture source for products. In fact, it's a terrible one.
We still block for six months on the first offense. Even if we'll all know what's out in three days, that's not today, is it?
Nethilia, The Admin
October 22, 2019 / American Girl at Costco 2019
The following sets are available at Costco warehouse stores for the holiday season:
American Girl Doll Bundles for $119.99 (savings are calculated on new cost of dolls at $98):
October 1, 2019 / The New Fall and Winter Release
A lot of new items have released for American Girl across almost every line, and several changes have been implemented for purchasing.
One of the biggest changes is that the prices of dolls have dropped across the board. All 18" dolls are now $98. Truly Me dolls now come with the book Friends: Making Them and Keeping Them.
Furthermore, the Historical Characters have shed the BeForever branding. The new books for the first six characters to be revamped--Kaya, Rebecca, Nanea, Maryellen, Melody, and Julie--have illustrations (returned for Rebecca and Kaya, updated for Julie, and new for Melody, Maryellen, and Nanea) but are now abridged. Please see each book's article for details on what had been added or removed. Also, all pets have been revamped and now have button eyes.
---
A new gift option is available: the customized gift experience. With this a doll is selected--using a quiz about the recipient that narrows down options, but any doll may be ultimately selected--and then a Starter set or Gift Trunk may be purchased of varying cost.
The Starter Set includes the following:
Choice of doll
One book related to doll
Choice of one play pack
Personalized letter to gift recipient with envelope
Optional free Ear Piercing
Added on Hearing Aids
$5.00 AG Rewards certificate for future order for Rewards members
The Gift Trunk includes the following:
Choice of doll
One book related to doll
Choice of two play packs
Personalized letter to gift recipient with envelope
Optional free Ear Piercing
Added on Hearing Aids
Premium storage container
First-year wellness visit through American Girl Hospital
$10.00 AG Rewards certificate for future order for Rewards members
Both options come with free shipping and handling. Non-members must sign up within three days of purchase to be eligible for the Rewards Certificate.
---
On to the new things.
Kaya:
For Truly Me:
Smart Girl's Guide Kits (these come with the book, items and a choice of one of six modern-dressed mini dolls):
For WellieWishers:
For Bitty Baby:
Nethilia, The Admin
July 22, 2019 / Holiday Limited Edition Outfits

Nutcracker Snow Queen, Clara, and Prince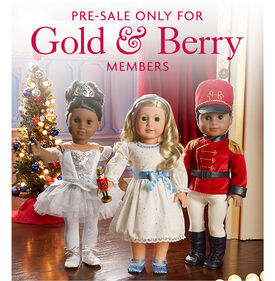 Gold and Berry members of the AG Rewards program may pre-order the Nutcracker-themed Nutcracker Snow Queen Outfit and Nutcracker Prince and Clara Outfit Set, which are limited numbered sets of 10,000 and 5,000 respectively for 18" dolls. Preorders are open until July 31st. The sets will be shipped by August 16th and not be available outside of the pre-order before October 1st. There is a limit of three per customer.
Nethilia, The Admin
July 9th, 2019 / Changes to the AG Rewards program

A new overhaul of the AG Rewards program launches today. The most prominent change is that each tier is reached by dollar amounts spent annually, not points accumulated per year.
Furthermore, each reward level will have its own unique annual reward certificate gift. Berry level members also will not have points expire as long as the level is maintained.
Until July 31st, the first purchase under the new rewards system will earn two times points on current levels.
More information is available on the article page, with full legal information available via reading the terms and conditions on the AG Rewards website.
Nethilia, The Admin
---
Older News

New Product Spotlight
Take a peek at Joss's Surfboard Set!

Joss loves to catch waves on the California coast - but she always takes her hearing aid off first!
---
Read more about this item on the article page!

Consider the Following...
---
Explore The Wiki for More Facts and Trivia!

Table of Contents
Dolls
Fandom, Collecting, and Other AG Services
---
See all pages

Helping Out on the Wiki
Not sure where to start?
Adding content
Talk and more...
Check out the community portal to see what the community is working on, to give feedback or just to say hi.
---
The Admins are Here to Help!

American Girl In The News: RSS
Please note that the American Girl Wiki staff does not collect or personally locate these news articles; they are pulled in by an automated Google RSS feed. The American Girl Wiki and its admins have no official opinion on any article seen here.
Loading RSS data...
---
Community content is available under
CC-BY-SA
unless otherwise noted.