American Girl Wiki News: Read All About It!
July 21, 2021 / American Girl Sweet and Savory Treats Cookbook
A new cookbook, currently listed as American Girl Sweet and Savory Treats, will be released October 19, 2021 and focus on various recipes tied to the historical characters. No cover has been released yet.
Nethilia, The Admin
July 12, 2021 / American Girl and Random House Publishing New Publications
Two more American Girl-themed Random House Books for Young Readers will be released in the US and Canada focused on the Historical Characters, with release dates in 2022:
Nethilia, The Admin
June 27th, 2021 / 2021 Benefit Sale Update
Updates on the American Girl Benefit Sale were announced on the 25th.
While public health continues to improve it is not at levels for an in-person sale so the sale is going to be held online again this year. Furthermore, 2020 resulted in complete sell-outs of doll inventory and, while inventory continues to come in, inventory is going to be lower than in previous years. This will result in fewer tickets available and more restrictions on purchase limits. Finally, there is to be no shipping; the sale will be requiring item pick-up only in Middleton.
Tickets will go on sale on August 25th with random time lottery assignments, with the sale being held online and for one day only on September 25th. Shoppers will then collect their purchases using curbside pickup from the new warehouse location in Middleton, Wisconsin. Appointments will be assigned on weekends in October starting on the 9th and concluding on the 24th.
Nethilia, The Admin
June 11th, 2021 / American Girl Virtual Summer FunFest in July
In July, American Girl will be holding a virtual Summer Funfest online as part of the 35th Anniversary celebrations. The event, which will be held July 10th and 11th, will include guests such as Magnolia Bakery, Connie Porter, Valerie Tripp, a HerStory panel, and trivia and movie nights.
Registration is free. More information and a schedule of events are available on the official website. (All times listed are EST.)
Nethilia, The Admin
June 9th, 2021 / American Girl Vacations

American Girl is partnering with Academic Travel Aboard for American Girl Vacations, themed trips focusing on American Girl characters and their lives. The first two vacation packages are scheduled for December 2021 and have limited spots available (a maximum of twenty-five people per group). Prices start at $4,595 per person and include accommodations, event costs, and at least one meal daily, but not airfare. The programs and trip will meet all COVID-19 health and safety protocols. Adults who are not accompanying children cannot attend; trips are intended and focus on children ages seven to twelve.
Lights! Camera! Action! Rebecca in New York: New York City from December 26-31, 2021 (six days), focusing on Rebecca Rubin and Jewish American/New York life/theater and movies in the early 20th Century. Activities include attending the NYC performance of the Nutcracker ballet, touring the Tenement Museum, visiting the Bialystocker Synagogue, sewing scarves with the discussion of mitzvah, and an after-hours tour of the Museum of the Moving Image. More Details.
Hawaiian Holiday with Nanea: Oahu, Hawaii from December 26, 2021 to January 1, 2022 (seven days), focusing on Nanea Mitchell and Hawaiian life/America's entry into World War Two in the mid 20th Century. Activities include visiting the USS Arizona memorial, a private tour of the Pearl Harbor Aviation Museum, visiting the Royal Hawaiian hotel, learning hula dance and making a lei, a luau, volunteering at the Humane Society, and visiting the Bishop Museum. More Details.
Nethilia, The Admin
June 4, 2021 / All New Bitty Baby and some Moddie Stuff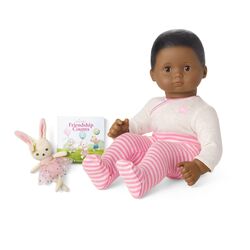 A new release majorly focusing on the Bitty Baby line has come out. Notably, the lower age for Bitty Baby items is now eighteen months. (Some items remain at three-plus.) Bitty Baby Dolls now come in a new meet outfit sleeper in three color styles: Pretty Pink, Soft Blue, or Cloud Gray. There is also the new option of Bitty Baby Twins; for a cost of $120 (standard costs per doll), purchasers may select two Bitty Baby dolls in any combination with their selection of sleepers.
Other new items for the line include:
There are also three books with accompanying stuffed toys:
New for Truly Me:
New for WellieWishers:
Nethilia, The Admin
May 29, 2021 / Four More Birthday Take Home Sets
There are four new birthday take home goody bag sets out now:
Each comes with one crown and four goodie bags for guests, including one article of clothing for a doll; all but the last are sized for 18" dolls. These do not ship to Canada.
Nethilia, The Admin
May 27, 2021 / Release Date for A Smart Girl's Guide: Race and Inclusion
American Girl has stated on Instagram that the book A Smart Girl's Guide: Race and Inclusion will debut on June 15th.
Nethilia, The Admin
May 14, 2021 / American Girl and Random House Publishing Announce New Publications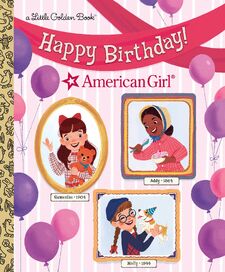 Random House Books for Young Readers will be launching a new American Girl-themed series of books in the US and Canada focused on the Historical Characters.
Five books have been announced. Three are Step Into Reading - Step Three titles, which are books aimed at children in average US Grades 1-3/ages five to eight who are ready to start becoming solitary readers.
The other two are Little Golden Books:
Further yet-to-be-announced books for 2022 will be in the same two brands of books, with potential to expand into other publications.
Nethilia, The Admin
May 4, 2021 / 35th Anniversary Special Edition First Six Historical Characters

For the 35th Anniversary of American Girl, the company has released Special Edition Anniversary dolls of the first six Historical Characters titled the 35th Anniversary Collection: Felicity Merriman, Kirsten Larson, Josefina Montoya, Addy Walker, Samantha Parkington, and Molly McIntire.
The bundles are intended to evoke the older styles of the characters at their original releases (in the case of Kirsten, there are almost no changes at all). A bundle includes the doll in the first released versions of their Meet Outfits, first styles of meet accessories, the first edition parchment style of meet books and an older-style box modified with visibility window and logo image on front. The first five also have the first edition thin-style eyebrows as opposed to newer-style feathered brows and all six have neck strings; the dolls come with a pamphlet about the 35th anniversary. Total cost for a collection is $150. Because of the designs replicating the first release looks and materials used in the process (while staying within US current toy regulations), the Special Edition dolls cannot be shipped outside of the US.
Nethilia, The Admin
---
Older News

Helping Out on the Wiki
Not sure where to start?
Adding content
---
The Admins are Here to Help!

Hot Topic of 2021
Meet Kira Bailey!

Kira Bailey loves animals a ton--she and her mother help foster kittens in her home state in Michigan. The Bailey Wildlife Sanctuary in Australia--currently owned by her two married great aunts, Lynette and Mamie--has been in Kira's family since the 1800s and is located in Australia, where she spends the duration of her stories.
---
Read more about Kira on her article page!

Learn With American Girl
From HerStory to Your Story:
American Girl gives voice to real girls whose stories—and actions—have inspired others to change the world at
American Girl HerStory
*~*~*
Educate and Empower Children:
Read about the stories of characters of color with free downloadable books at
Diversity and Education with American Girl
*~*~*
Stay Healthy, Stay Home!
Tips for at-home activities, advice, and videos at
Stay And Play with American Girl
---
Education, Empowerment, and Enlightenment

New Product Spotlight
Take a peek at Kira's Koala PJs!

Kira's pajama design focuses on one of the most well known animals native to Australia, the koala--and match her collection's koala as well!
---
Read more this item on the article page!

Consider the Following...
---
Explore The Wiki for More Facts and Trivia!

Table of Contents
Characters and Lines
Fandom, Collecting, and Other AG Services
---
See all pages