American Girl Wiki News: Read All About It!
December 31st, 2019 / Blaire Wilson, Girl of the Year 2019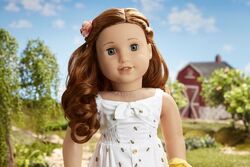 American Girl official press releases have gone out for Blaire Wilson, Girl of the Year 2019. Data has gone out to major news outlets, stating that she will have themes of balancing technology with offline activities, dealing with food intolerance, and living on a self-sustaining farm.
More information will be released tomorrow--it took AG a while to release the press data on Blaire. We here at the AG Wiki hope everyone has a safe start to 2019!
Nethilia, The Admin
December 4th, 2018 / Berry Reward Outfit for 2017
This year, the Berry level reward outfit is one of three previously released outfits:
Users have until December 12th to claim, and must use a code provided in e-mail. The limit is one outfit per account. Free shipping is included if nothing else is ordered with the single outfit.
Nethilia, The Admin
November 25th, 2018 / Cyber Monday Sales
Cyber Monday sales have gone active for AG Rewards members with up to 60% off various items. Furthermore, $5.95 shipping is available on orders $100+ with the code CM2018.
Nethilia, The Admin
October 19th, 2018 / More Costco Releases and the AG Rewards adjustments
The following sets are available at warehouse stores for the holiday season:

Horse and Saddle Set: a bundle of the retired Chestnut Horse with small accessories: saddle, bridle and reins, blanket, bristle brush, carrots and apple; $49.99.
Pet House sets return for $29.99:
Last Year's Kit Kittredge bundle: the doll, Read All About It!, meet hat, a modified red sweater from Kit's Photographer Outfit, Kit's Reporter Dress, and Kit's Reporter Accessories (minus photographs) for $129.99.
Bitty Baby sets: these include the doll and a unique layette set (tunic, leggings, diaper, booties, sleeper, bib, hat, blanket, rattle, bottle, and a layette suitcase) for $99.99.
Changes to the AG Rewards program were implemented starting October 1st.

The most notable is that Gold Members now earn 1.25 points per $1 spent, while Berry Members earn 1.5 points per $1 spent, allowing them to build to rewards faster.
Birthday gifts are now offered; these can be redeemed either online or in store with an online code e-mailed during the birth month.
A free tiara can be included with the use of American Girl Doll Salon once per year for Berry Members.
Also this year, qualifying purchases will activate a Holiday Passport. More details are on the article page.
Nethilia, The Admin
October 9th, 2018 / Costco Dolls and the Re-Release of Molly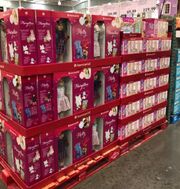 New Costco only bundles have arrived, including a first release of the BeForever version of Molly McIntire.
The bundles retail for approximately $119 and include a coupon to get the second volume of each doll's BeForever volumes.
It is unknown at this time if Molly will later be available through American Girl directly.
Nethilia, The Admin
October 1st, 2018 / The 2018 Fall/Winter Release
New things for all the modern doll lines were released today, including new modern mix and match sets.
For Truly Me:
For the WellieWishers:
For Bitty Baby:
For Generic use:
Nethilia, The Admin
---
Older News

Consider the Following...
---
Explore The Wiki for More Facts and Trivia!

Table of Contents
Dolls
Fandom, Collecting, and Other AG Services
---
See all pages

Helping Out on the Wiki
Not sure where to start?
Adding content
Talk and more...
Check out the community portal to see what the community is working on, to give feedback or just to say hi.
---
The Admins are Here to Help!

American Girl In The News: RSS
Loading RSS data...
Please note that the American Girl Wiki staff does not collect or personally locate these news articles; they are pulled in by an automated Google RSS feed. The American Girl Wiki and its admins have no official opinion on any article seen here.
---
REFRESH