American Girl Wiki News: Read All About It!
July 22, 2019 / Holiday Limited Edition Outfits

Nutcracker Snow Queen, Clara, and Prince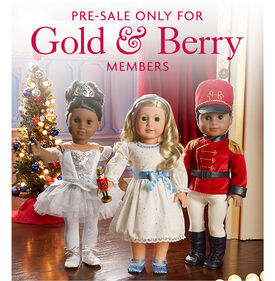 Gold and Berry members of the AG Rewards program may pre-order the Nutcracker-themed Nutcracker Snow Queen Outfit and Nutcracker Prince and Clara Outfit Set, which are limited numbered sets of 10,000 for 18" dolls. Preorders are open until July 31st. The sets will be shipped by August 16th and not be available outside of the pre-order before October 1st. There is a limit of three per customer.
Nethilia, The Admin
July 9th, 2019 / Changes to the AG Rewards program

A new overhaul of the AG Rewards program launches today. The most prominent change is that each tier is reached by dollar amounts spent annually, not points accumulated per year.
Furthermore, each reward level will have its own unique annual reward certificate gift. Berry level members also will not have points expire as long as the level is maintained.
Until July 31st, the first purchase under the new rewards system will earn two times points on current levels.
More information is available on the article page, with full legal information available via reading the terms and conditions on the AG Rewards website.
Nethilia, The Admin
June 15th, 2019 / Truly Me Bundle
In stores only, a Truly Me bundle is available for $165.00:
This has a savings total of $19. The offer is good through September 30th, 2019.
Nethilia, The Admin
June 14th, 2019 / New Things for Blaire, Moddies, Wellies, and Bitty Baby
New things are out for everything but BeForever characters.
For Blaire Wilson:
For Truly Me:
For WellieWishers:
For Bitty Baby:
Nethilia, The Admin
June 9th, 2019 / Free Shipping Universal at $125+ / Lowered Ear Piercing Cost For Summer
American Girl now offers standardized free ground shipping on minimum orders of $125 or more! Once qualified, free shipping will automatically apply at checkout. Additional charges will apply for rush shipping, shipping outside of the US or Canada, and shipping large items.
AG Rewards members of all levels can get ear piercings for a lowered cost of $10 from June 1st through August 31 (11:59 p.m. Central Time for online orders) while supplies last. There is a limit of three $10 doll ear piercings per transaction. Members must be signed in to their Rewards Account online or provide their account information at retail locations.
More information on both offers is available on the website.
Nethilia, The Admin
January 31st, 2019 / Two American Girl Stores To Close By March 20th
American Girl has announced that it will close two American Girl Place locations--American Girl Mall Of America and American Girl Boston--on March 20 as part of a cost-cutting move. Both stores opened in November 2008.
Nethilia, The Admin
January 16th, 2019 / Blocking in 2019 - Some Things Never Change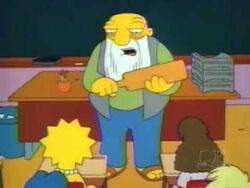 Just a reminder of reasons you can and will be blocked.
Spamming. This should be obvious, but we don't care about anything you're trying to sell or get someone to sign/look at in any capacity. That's a blocking.
Making internal links with external link styles. The Sandbox shows how internal links should be made. If links are found that are made external but to internal wiki articles, that's a blocking. It makes the code ugly. It's even uglier when an edit shows a proper link followed by an improper one. That's a blocking.
Poor descriptions repeatedly. "black shirt, white sleeves" or "blue hat with white pompom" is not a sufficient description. That's a blocking.
Poor image uploading. This can be badly appearing images, badly named images, not categorizing images, etc. You can best believe, that's a blocking.
If Admin finds themselves having to roll back or undo more than five articles they found someone edited, that's a sign they did major wrong. They will be blocked. You waste our time, we remove your access to editing.
Nethilia, The Admin (I don't paddle the school canoe.)
January 1st, 2019 / Blaire Wilson Debuts! (And Other New Items)
Blaire Wilson makes her debut! Here's the rundown of her collection.
For Truly Me:
For WellieWishers:
Bitty Baby only got one outfit, the Sweet Spring Outfit. No items were released for BeForever.
New stuff, new year, but the same old rules of the wiki apply.
AkaiKaze, the Other Admin
December 31st, 2018 / Blaire Wilson, Girl of the Year 2019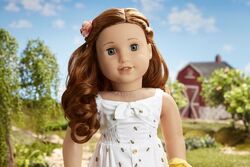 American Girl official press releases have gone out for Blaire Wilson, Girl of the Year 2019. Data has gone out to major news outlets, stating that she will have themes of balancing technology with offline activities, dealing with food intolerance, and living on a self-sustaining farm.
More information will be released tomorrow--it took AG a while to release the press data on Blaire. We here at the AG Wiki hope everyone has a safe start to 2019!
Nethilia, The Admin
December 4th, 2018 / Berry Reward Outfit for 2017
This year, the Berry level reward outfit is one of three previously released outfits:
Users have until December 12th to claim, and must use a code provided in e-mail. The limit is one outfit per account. Free shipping is included if nothing else is ordered with the single outfit.
Nethilia, The Admin
November 25th, 2018 / Cyber Monday Sales
Cyber Monday sales have gone active for AG Rewards members with up to 60% off various items. Furthermore, $5.95 shipping is available on orders $100+ with the code CM2018.
Nethilia, The Admin
October 19th, 2018 / More Costco Releases and the AG Rewards adjustments
The following sets are available at warehouse stores for the holiday season:

Horse and Saddle Set: a bundle of the retired Chestnut Horse with small accessories: saddle, bridle and reins, blanket, bristle brush, carrots and apple; $49.99.
Pet House sets return for $29.99:
Last Year's Kit Kittredge bundle: the doll, Read All About It!, meet hat, a modified red sweater from Kit's Photographer Outfit, Kit's Reporter Dress, and Kit's Reporter Accessories (minus photographs) for $129.99.
Bitty Baby sets: these include the doll and a unique layette set (tunic, leggings, diaper, booties, sleeper, bib, hat, blanket, rattle, bottle, and a layette suitcase) for $99.99.
Changes to the AG Rewards program were implemented starting October 1st.

The most notable is that Gold Members now earn 1.25 points per $1 spent, while Berry Members earn 1.5 points per $1 spent, allowing them to build to rewards faster.
Birthday gifts are now offered; these can be redeemed either online or in store with an online code e-mailed during the birth month.
A free tiara can be included with the use of American Girl Doll Salon once per year for Berry Members.
Also this year, qualifying purchases will activate a Holiday Passport. More details are on the article page.
Nethilia, The Admin
October 9th, 2018 / Costco Dolls and the Re-Release of Molly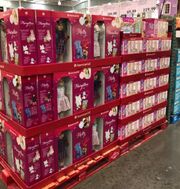 New Costco only bundles have arrived, including a first release of the BeForever version of Molly McIntire.
The bundles retail for approximately $119 and include a coupon to get the second volume of each doll's BeForever volumes.
It is unknown at this time if Molly will later be available through American Girl directly.
Nethilia, The Admin
October 1st, 2018 / The 2018 Fall/Winter Release
New things for all the modern doll lines were released today, including new modern mix and match sets.
For Truly Me:
For the WellieWishers:
For Bitty Baby:
For Generic use:
Nethilia, The Admin
---
Older News

New Product Spotlight
Take a peek at Blaire's Casual Outfit!

Blaire's latest addition to her collection is a comfortable dress with tights, boots, a headband and a scarf!
---
Read more about this item on the article page!

Consider the Following...
---
Explore The Wiki for More Facts and Trivia!

Table of Contents
Dolls
Fandom, Collecting, and Other AG Services
---
See all pages

Helping Out on the Wiki
Not sure where to start?
Adding content
Talk and more...
Check out the community portal to see what the community is working on, to give feedback or just to say hi.
---
The Admins are Here to Help!

American Girl In The News: RSS
Please note that the American Girl Wiki staff does not collect or personally locate these news articles; they are pulled in by an automated Google RSS feed. The American Girl Wiki and its admins have no official opinion on any article seen here.
Loading RSS data...
---