American Girl Wiki News: Read All About It!
August 11, 2018 / The American Girl Outlet and Exclusive Items
The new American Girl Outlet store opened this weekend in Hershey, PA. The outlet mostly stocks older, retired items; however, all dolls are full price.
Notably, some Outlet only exclusives for Truly Me have been released and are currently not available anywhere else.
Nethilia, The Admin
July 31, 2018 / Farewell, Z and Gabriela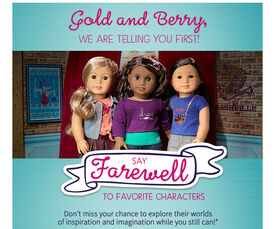 Today, announcement was set out to Gold and Berry Members that Gabriela McBride, Z Yang, and their collections (along with Tenney's collection announced earlier) would be retired at the end of 2018.
With Z's retirement, this currently appears to close the contemporary line for the foreseeable future.
Nethilia, The Admin
July 21, 2018 / Farewell, Tenney and Logan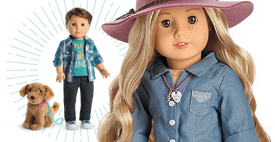 Today, American Girl announced that Tenney Grant and her entire collection (including Logan Everett) will be retired at the end of 2018. Her books (and possibly the mini doll in select locations) will remain available for purchase.
If there's something in her collection you've been itching to get, hop to it!
Nethilia, The Admin
July 18, 2018 / MCM and AG in Other countries
This weekend is the MCM Sale in Madison, WI.
Starting June 11th, American Girl started selling Truly Me dolls and accessories in Columbia, exclusively at Pepe Ganga (Spanish site) for 499.99 Colombian Pesos (about $174). Thirteen stores are carrying the dolls, with six in the capital of Bogotá. Right now the only dolls abailable are #16, #24, #25, #39, #52, #55, and #59 with select outfits.
Starting July 24th, American Girl will start selling Truly Me dolls and accessories in Brazil, exclusively at select PB Kids Boutiques (Portuguese site). The cost will be 700 reals (about $175 US).
Nethilia, The Admin
July 6, 2018 / The Ten Year Anniversary of the AG Wiki!
Today marks the tenth year of the American Girl Wiki. So much has happened since the wiki was founded with one person coding character pages and a hope that information about American Girl could be more than what was found on solo sites focused primarily on only the items to buy.
We've seen the release of multiple Historical characters--Rebecca, Cecile and Marie Grace, Caroline, Maryellen, Melody, and Nanea. There's been retirements and later returns of some of the Historical Characters, and the termination of the Best Friends Line. There were major changes to Bitty Baby, and the eventual fading of the Bitty Twins. There's been multiple Girls of the Year, including our first ever Black and Hawaiian moderns, and second Latina character--as well as the Contemporary Line. There's been the revamp of the Historical line into BeForever. There's the release of the WelliWishers, one of the second lines to focus on the elementary kids. Create Your Own allows for customized dolls for the first time in the line's history--as well as the first ever official boy dolls. Multiple stores have opened across the nation, as well as stores outside of the US. A*G Rewards launched.
And Truly Me's gone through about three names--and yes, since category changes are hard, we still call the category by a name several years out of date. Edits, whatcha gonna do.
Good job, everyone who's ever contributed positively to the Wiki. I'm thankful for my admins, the people who add data on products and characters and books plots (and help during full product launches!) and to everyone who's ever even just fixed a problematic typo. And even if you just come across the Wiki in a search and are just glad to have more information (or how to identify your old childhood products), then please keep coming back! Let's keep it going as the years go on.
Nethilia, The Admin
July 1, 2018 / New Outlet Store
American Girl will be opening a new outlet store at the Tanger Outlets in Derry Township (Near Hershey, PA) this summer. The 2,200 square-foot store will open sometime in August. Source The store will focus on selling discontinued and retired items. The last outlet store (located in Oshkosh, WI) closed July 27, 2016.
Nethilia, The Admin
June 19, 2018 / American Girl Live
American Girl is debuting a new musical in 2019, American Girl Live. A list of select cities can be seen in the official site.
--AkaiKaze, the Other Admin
June 18, 2018 / Summer Release
There hasn't been a lot of news since February, but now we have new things!
For BeForever characters:
For Luciana's Collection:
Outfits and accessories:
For Generic Doll Use:
For the WellieWishers:
Welliewishers can now also have their ears pierced, and will come with unique earrings, the Bright Blooms Earring Set.
For Bitty Baby:
A little bit for everyone!
Nethilia, The Admin
---
Older News

New Product Spotlight
Take a peek at Kit's Gardening Outfit!

Kit's Gardening outfit is the third outfit in her collection that has centered around overalls. In the 1930s, overalls were not considered proper public wear for girls; they still had to wear dresses or skirts to places like school.
---
Read more about this item on the article page!

Consider the Following...
---
Explore The Wiki for More Facts and Trivia!

Table of Contents
Dolls
Fandom, Collecting, and Other AG Services
---
See all pages

Helping Out on the Wiki
Not sure where to start?
Adding content
Talk and more...
Check out the community portal to see what the community is working on, to give feedback or just to say hi.
---
The Admins are Here to Help!

American Girl In The News: RSS
Loading RSS data...
Please note that the American Girl Wiki staff does not collect or personally locate these news articles; they are pulled in by an automated Google RSS feed. The American Girl Wiki and its admins have no official opinion on any article seen here.
---
REFRESH