American Girl Wiki News: Read All About It!
January 21, 2022 / Change in American Girl Return Policies
There have been changes to American Girls' previously very generous return policy. Years ago, returns used to be unquestioned and unlimited, regardless of the time of purchase; this was later reduced to only allowing returns of items two years after the initial purchase, and then to one year after purchase.
The policy is now as follows (some policies may have been in place for some time):
Create Your Own dolls and outfits and dolls purchased with ear piercings are not returnable or refundable.
Any shipping and processing fees are non-refundable.
Items designated as on final sale (Clearance/Last Chance) cannot be returned.
American Girl will only accept returns of products that have been purchased directly from American Girl. Products purchased at other locations (e.g. Barnes and Noble, Tuesday Morning, Amazon, specialty boutiques in Indigo/Chapters) should be returned to the original place of purchase.
All purchases made at the American Girl Outlet Store are considered final and may not be returned or exchanged, similar to any purchases at the American Girl Benefit Sale.
Returned gifts should include the name and address of the original purchaser; AG will attempt to locate the original order information to verify proof of purchase, but the purchaser will not be notified of the item's return. If there is a retail gift receipt, a copy should be included with a return.
A merchandise credit will be issued if the purchase cannot be verified through the company.
Refunds or credits will be issued for the purchase price, current list price, or prorated price depending on the item or items returned.
American Girl reserves the right to assess the final value of items returned.
Refunds mailed back to the company with a pre-paid label through American Girl will have $6.95 deducted from the refund for their use.
All returns are monitored and may be limited or denied by the company.
More details can be seen on their website: Returns – United States.
Nethilia, The Admin
December 30th, 2021 / Welcome, Corrine and Gwynn Tan!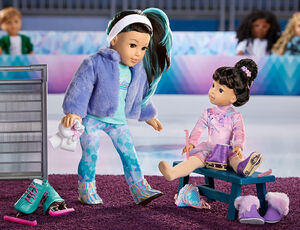 Welcome the 2022 Girl of the Year, Corinne Tan! Along with her younger sister Gwynn Tan, she's braving new trails and new ways with the following in her collection:
Also this year American Girl is partnering with AAPI Youth Rising, a youth-run organization to combat anti-Asian and Pacific Islander discrimination. Donations of $1, $5, and $10 can be made with American Girl having donated $25,000 to the ONE/180 pledge, asking schools and teachers to teach at least one day of Asian American history and culture during the school year.
Nethilia, The Admin
December 27th, 2021 / Preview and Preorders for Girl of the Year 2022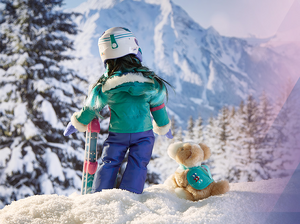 American Girl has put up a preview image of the new 2022 Girl of the Year. The character and collection will be released on December 30th in stores and on Good Morning America, and preorders for the doll and meet accessories are available now. Images show that character's name is Corinne Tan, and her collection focuses on winter sports and activities. She also has a companion in her younger sister, Gwynn Tan.
Don't forget our policy on Rumors, Leaks, and Hearsay. We still block for six months on the very first offense for anything uploaded or created before American Girl makes an official release. Furthermore, one of our policies is that for the first several months after new lines and characters are released, all high traffic pages for them are protected for a set amount of time. This is to prevent bad faith edits and poor data implementation. This has the policy for some time; in the past before this policy was implemented, early items being released drew rumors, leaks, hearsay, and inaccurate data, as well as poorly done edits, and admins had to spend early parts of a release cleaning up messes. Too many people--in this fandom and others--want to be first to state anything, regardless of how properly done the data is implemented.
Once the articles are open, then all edits will need to be made according to the site's Article Creation, Editing Guidelines, and Style Guide or they will be summarily removed and users corrected by admin or content creators. As we say, it doesn't matter if you're the first to do it, it matters that you're doing it right.
Nethilia, The Admin
December 3rd, 2021 / World Traveler and Mix and Match Sets
New Items have released just before the end of the year.
First are new additions to the World Traveler Collection:
Second, a new Mix and Match Set has been released, the Pawsitively Purrfect Collection:
There are also two new books:
The Ultimate American Girl Sticker Book

American Girl Character Encyclopedia New Edition Book
Nethilia, The Admin
November 24th, 2021 / Winter Olympics Sets

(backdated news)
New outfits have been released in anticipation of the 2022 Winter Olympics, along with one new item for children:
Nethilia, The Admin
October 24th, 2021 / Costco Bundles and New Random House Books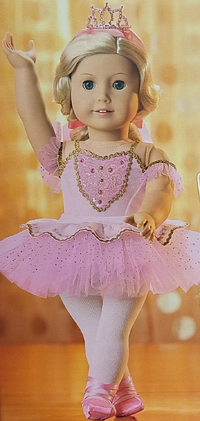 Costco has offered new bundles for the holiday season.
Sparkling Ballerina Doll and Outfit Set for $129.99: four versions of ballet-themed dolls that come with a performance and a practice outfit as well as the book Friends: Making Them and Keeping Them. The dolls are all Truly Me dolls: #67, #82, #84, and one unique blonde, blue eyed doll with the Classic mold and long curls that has been previously unreleased. A coupon for $20 off an order of $100 or more (that must be used before Feb 22, 2022) is also included.
American Girl Truly Me Outfit and Accessory Sets for $59.99: Fourteen piece outfit and accessory sets. The two options are Pet Boutique and Movie Night. Each comes with an outfit and various themed accessories.
WellieWishers Doll and Garden Classroom Set for $89.99: Includes WellieWishers doll dressed in the modified Smart as a Fox School Outfit with original meet shoes, and modified versions of the Ready to Learn Backpack and Lunch Set and Ready to Learn Desk Set.
S'more Fun Camping Set for $69.99 (from last year): Doll sized camping tent, sleeping bag, campfire, campfire pie, s'more, s'more stick, and two plates.
Two new Random House Books have been found on Amazon.com:
Nethilia, The Admin
October 22nd, 2021 / American Girl x Stoney Clover Lane

(backdated news)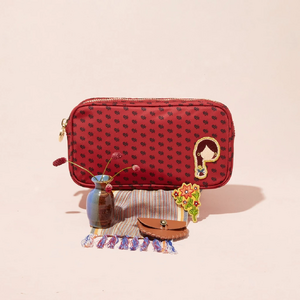 American Girl has paired with Stoney Clover Lane to release customizable accessory purses and bags in celebration of the 35th anniversary.
The line, titled Stoney Clover Lane x American Girl, consists of the brand's small pouches, large pouches, flat pouches, and mini tote bags in prints based on the first six Historical Characters's Classic Meet Outfits along with character patch designs and letters that can either be purchased separately or used to customize the bags.
The items are available through both companies, both online and in physical stores (American Girl Place and Stoney Clover Lane stores).
Nethilia, The Admin
Sept 27th, 2021 / New Outfits for Celebration
Five new cultural outfits have been released today for Truly Me:
Furthermore, for the next two days Historical Character and Girl of the Year dolls are on sale for $98 (offer valid online only).
Nethilia, The Admin
---
Older News

Helping Out on the Wiki
Not sure where to start?
Adding content
---
The Admins are Here to Help!

Hot Topic of 2022
Meet Corinne Tan!

Corrine Tan is adjusting to a new life with a new stepfather--she and her little sister, Gwynn, have always called Aspen home, but with a new stepfather comes many new changes. She's also the first Chinese-American Girl of the Year!
---
Read more about Corinne on her article page!

Learn With American Girl
From HerStory to Your Story:
American Girl gives voice to real girls whose stories—and actions—have inspired others to change the world at
American Girl HerStory
*~*~*
Educate and Empower Children:
Read about the stories of characters of color with free downloadable books at
Diversity and Education with American Girl
*~*~*
Stay Healthy, Stay Home!
Tips for at-home activities, advice, and videos at
Stay And Play with American Girl
---
Education, Empowerment, and Enlightenment

New Product Spotlight
Take a peek at Corinne's Ski Outfit and Accessories!

Corinne lives in Aspen, Colorado, known for its skiing--and, with her new stepfather's wealth, is able to take up skiing lessons while Gwynn takes up skating.
---
Read more this item on the article pages!

Consider the Following...
---
Explore The Wiki for More Facts and Trivia!

Table of Contents
Characters and Lines
Fandom, Collecting, and Other AG Services
---
See all pages

American Girl In The News: RSS
Please note that the American Girl Wiki staff does not collect or personally locate these news articles; they are pulled in by an automated Google RSS feed and may not be specifically about the American Girl brand. The American Girl Wiki and its admins have no official opinion on any article seen here.
---
REFRESH