Meet Courtney Moore!

Courtney is the best gamer in the arcade--but life's not as easy as a high score in the 1980s!

Commitment to Equality

Educate, Empower, and Promote Understanding

Team USA

Celebrate the Upcoming 2020 Olympics in 2021 with Team USA Gear!

American Girl Wiki News: Read All About It!
November 17, 2020 / 2020 Limited Edition Dolls For Charity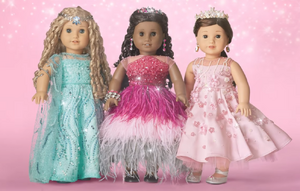 This year, American Girl has again partnered with Swarovski to release three different one-of-a-kind Limited Edition collector dolls as the American Girl Swarovski Crystals Couture for a Cause collection: the Sweet as a Rose Collector Doll, Fuchsia Feathers Collector Doll, and Boho Chic Collector Doll. According to advertising, each unique outfit took multiple hours to design and create and was completely hand-embellished by Swarovski couturiers.
The auctions are being hosted through Bidding for Good with all proceeds to go to First Responders Children's Foundation (minus auction host fee of $600 and an amount equal to 5% of the final bid price). Auctions will run from November 17th through the 25th and began at $5000. Mattel and American Girl are also donating "more than $1,000,000 in retail value of toys to the foundation's Toy Express program" including 18" dolls and other popular Mattel products from Hot Wheels, Barbie and Mega Bloks. The toys will be distributed to thousands of first responder families nationwide through the end of the year.
The video can be seen here: American Girl Swarovski Crystals Couture for a Cause
The press release can be read here: American Girl® to Auction Off Three One-of-a-Kind Collector Dolls Made With Thousands of Swarovski® Crystals
Nethilia, The Admin
October 30, 2020 / Hospital Add Ons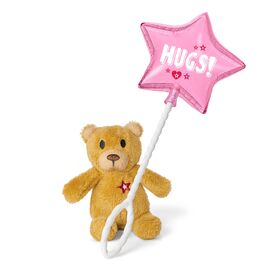 There are two new "get well" add-ons themed for dolls sent in to the American Girl Hospital:
They must be purchased separately from the website, rather than added on during admittance.
Nethilia, The Admin
October 19, 2020 / Costco Bundles
The following sets are available at Costco warehouse stores and online for the holiday season:
S'more Fun Camping Set for $69.99: Doll sized camping tent, sleeping bag, campfire, campfire pie, s'more, s'more stick, and two plates
Bitty Baby Doll and Carrier Set for $79.99: choice of select Bitty Baby doll, travel seat, pink blanket, pink bodysuit, pair of shoes, and baby bottle. Also available online.
Also as online exclusives are the following:
American Girl Truly Me Doll and Hairstyling Bundles. for $119.99 These consist of one of various Truly Me dolls, (22, 28, 26, 31, 47, 58, or 59) in the Lilac Dress meet outfit with accessories from the Truly Me set and a copy of the Doll Hair activity book.
Bitty Baby Doll and Accessories Set for $84.99: choice of Bitty Baby Doll with bodysuit, quilted baby bag, sleeper, two-piece outfit, cloth headband, baby bottle, two cloth diapers, and socks.
A Costco membership is required to access these benefits and are available while supplies last.
Nethilia, The Admin
October 1, 2020 / American Girl Holiday Release
The last release of the year with the holiday wear is now out, including a new Mix and Match for moderns. There is also a widespread limited Edition Nutcracker Sugar Plum Fairy Doll, the second after last's year's extremely limited American Girl Holiday Collector Doll (but the first widespread).
For Truly Me and children:
For WellieWishers:
For Bitty Baby:
Bad edits on new items will get you coal for Giftmas. And a block.
Nethilia, The Admin
September 22, 2020 / Scottsdale Location Closed / New Nutcracker Collection Outfits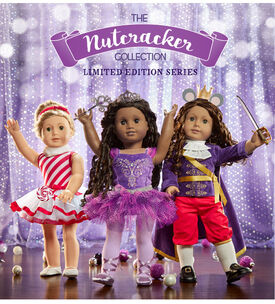 Bad News First: With no prior news, the American Girl Place Scottsdale location has been removed from the list of American Girl Place retail locations. Unlike other locations, it did not reopen after the March shutdowns. The location appears to be permanently closed. ETA: It has been confirmed by American Girl that Scottsdale is now permanently closed.
Good News Second: New outfits for the limited edition Nutcracker collection have released: The Nutcracker Sugar Plum Fairy Outfit and the Nutcracker Mouse King and Land of the Sweets Outfit Set. Early access is limited to AG Rewards members at the Gold and Berry Levels until Sept 28th.
Nethilia, The Admin
September 21, 2020 / 2X Points With Rewards Certificate
AG Rewards Members who make a purchase from now until September 30th using a rewards certificate on the purchase will earn twice the AG Rewards points (minus whatever portion is covered by the certificate).
Nethilia, The Admin
September 19, 2020 / A New Line, and New Characters
Lost in the hoopla of Courtney's release was American Girl's tweet about a new product line featuring a contemporary Black character, as well other contemporary characters of color, to debut in late autumn 2021.
Because sometimes we just can't beat a dead horse enough times, this wiki is a no-speculation zone.
AkaiKaze, the Other Admin
September 15, 2020 / It's Totally Courtney! And Moore!
(I'll make all the bad puns I want.)
American Girl's newest Historical Character, Courtney Moore, was totally worth the wait! She launches as Player One with a dibbly fresh mix and match collection:
To celebrate the launch, American Girl has partnered with Girls Who Code. Through December 31, American Girl will match customer donations of $1, 5, or $ 10 to a maximum of $50,000 to support the organization, including outreach to children from historically underrepresented minority groups. They will also be providing a $5,000 scholarship to four Girls Who Code members to help further their education in computer science or a related field. A second book has been mentioned in press release but has not been titled or revealed yet. (Guess we really are doing it 80s style!)
But that's not all! Newly enrolled AG Rewards Members will earn three times the AG Rewards points on an order from American Girl through September 24, 2020. Through November 30, 2020, purchasers will receive a free limited edition poster of all the available Historical Characters and the most recent three Girls of the Year with any 18" doll purchase.
It's absolutely heinous to put up bad articles. So don't do it. Or I'll unplug the arcade cabinet and you'll lose your quarter.
Nethilia, The Admin, Knows that Sheep are In
September 14, 2020 / Admin and Templates
A long standing policy has had to be outwardly stated because of people misbehaving: Admin and Templates.
Templates are backend coding used across the wiki for article layouts, notes at tops and bottoms, quick categories, and a myriad of other needs that make it so information can be put down with short code rather than a full typing of data every time. Editing a template edits it across every article it is on. This makes them highly sensitive and so they are tightly regulated by Admin and Content Moderators only.
So the policy is short and simple. Do not edit templates unless you are admin or content moderator. Typos and small mistakes are fine. Any other changes whatsoever are not in the realm to touch or anyone else's call to make. Deleting, editing, modifying, or otherwise messing with any template will result in an immediate one month ban, with subsequent violations escalating up to a permanent ban.
Nethilia, The Admin
September 9th, 2020 / Free Joss's Cheer Team Jacket With Purchase of Doll
From today until September 14th, AG Rewards members purchasing any 18" doll (other than a Create Your Own) can receive Joss's Cheer Team Jacket for free.
Nethilia, The Admin
September 6th, 2020 / Official Information on the Upcoming Historical Character, Courtney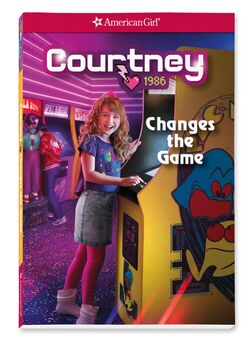 Source: First Book, Courtney Changes the Game, listed on Target Website. Accessed 8/6/2020.
Official news has come out about the upcoming newest Historical Character to be released: Courtney Moore. Courtney will be representing the 1980s, with her books starting in 1986. (In a way, AG has come full circle!) From the cover, we can tell she is white and appears to have an interest in video games. The website listing shows an early October release. No information other than her first book has been released officially.
Yes, officially. This is a reminder, as must be done with all new product and people getting hype and forgetting themselves. Until official images and details are released of anything--dolls, other books, accessories, collections--they are not to be uploaded here or even discussed. Leaked images from a Facebook group that were uploaded to a YouTube page and then screenshot and posted on Instagram? Not official. Blocks will come with mega swiftness.
ETA, 9/10/20: America Girl has put up a preview site stating Courtney's release to be 9/15/20.
Nethilia, A Child of the 1980s
August 14, 2020 / Backpack Set and Thank You Heroes Scrubs
A new item has come out, the American Girl Backpack Set.
Additionally the Thank You Heroes Scrubs are now available for general purchase.
Nethilia, The Admin
---
Older News

Hot Topic of 2020
Meet Courtney Moore!

Courtney Moore is the best gamer in the arcade, and has sweeping imaginative ideas for her own character, Crystal Starshooter, from events in her life. But there's more she's got to face than her high scores and high hopes.
---
Read more about Courtney on her article page!

Consider the Following...
---
Explore The Wiki for More Facts and Trivia!

Table of Contents
Dolls
Fandom, Collecting, and Other AG Services
---
See all pages

Helping Out on the Wiki
Not sure where to start?
Adding content
Talk and more...
Check out the community portal to see what the community is working on, to give feedback or just to say hi.
---
The Admins are Here to Help!
Community content is available under
CC-BY-SA
unless otherwise noted.