American Girl Wiki News: Read All About It!
Sept 10th, 2021 / Stronger in Colour Shirt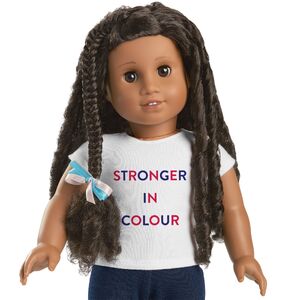 American Girl has released a limited edition T-shirt in collaboration with designer Prabal Gurung, the Stronger in Colour Shirt. The shirt is available for both dolls and children.
Nethilia, The Admin
Sept 3rd, 2021 / Courtney and Mix and Match Releases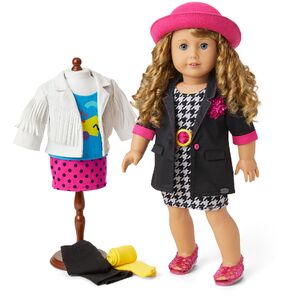 A new Mix and Match set as part of Courtney's Collection has been released, as well as a new set of Modern Mix and Match.
For Courtney:
For the Truly Me line:
Nethilia, The Admin
Aug 18th, 2021 / American Girl Vacations Canceled
Due to recent news regarding the heightened transmissibility of the Covid-19 Delta variant and continued rise in infections and cases, American Girl Vacations has canceled both planned trips for 2021 and postponed them to unknown dates.
No further vacation packages have been announced, though the website has stated at present there may be 2022 vacation packages. Those who had booked vacations were sent notice of the cancellation and a small care package of American Girl items in apology.
Nethilia, The Admin
Aug 16th, 2021 / American Girl Coloring Journal / Clarification on Rules on User Page Use
A book by Simon and Schuster, American Girl Coloring Journal, will be released this November.
---
Clarifications of use of User Pages have been made; while much of this has been implemented in some form since June, they are being further solidified so as to avoid ambiguity in interpretation. The main thing to retain is that your User Page is not your primary contribution to this wiki, and that we are not a fandom hub and thus will encourage all users to focus their editing attention on the main pages. Furthermore, inactive editors should not return only to immediately return to adjusting a personal page.
If admins detect that a user is editing their personal page in such a way that it shows more personal focus rather than contributing to the project (or an inactive user returns after a span of a year or more with no contributions to the project and only focuses on their user page) user will be warned once to contribute properly to the project. If the user page continue to be focused on rather than the primary project needs, a user's page will be temporarily protected for a minimum of a month to encourage focus on the project. The time can be removed and the page unprotected after at least twenty good faith contributing edits have been made for at least a month (both obligations must be fulfilled), but can be placed again if they fail to contribute again.
Users should be familiar with our policies when they sign up to edit, which are linked in the side column.
Nethilia, The Admin
Aug 13th, 2021 / Truly Me Release and WellieWishers Changes
A small Truly Me Release, including Halloween outfits, has been released.
Books:
For the WellieWishers, all five were given new meet outfits and now each is paired with a book focusing on the character. They also now all share a new set of accessories, the Magical Llamacorn Accessories, which can be purchased at discount with a doll purchase. Other items:
Nethilia, The Admin
Aug 5th, 2021 / 2021 Benefit Sale Update - Limits, Ticket Sales, and More Data
Updates on the American Girl Benefit Sale were announced today. In a first, the purchase limits are being announced before ticket sales are available so as to offer people full information before purchasing, and a double lottery will be used to offer everyone a fair chance at the limited number of tickets.
Ticket Sales Lottery and Purchase: Aug 25–26 will be the ticket purchase lottery sign-up; forms will be sent out and available on the website and Facebook page entering the pool for the chance to buy one ticket per person, and only one entry per person will be accepted. From the pool of applicants, people will be informed if they are selected to buy tickets or not by August 27. From August 27th-30th, those who have been selected to purchase tickets will be given the link to allow them to purchase their ticket. Tickets this year cost $12, all sales are final, and limits are one ticket per e-mail/household. Ineligible ticket purchases will be refunded minus a $4-per-ticket fee and and violators may be denied future ticket sales. Shopping times will be randomly assigned to all purchased tickets, with results sent by email to all ticket holders.
Ticket Transfers and Purchase Verification:: If a purchaser cannot, for whatever reason, use their ticket--or purchased on behalf of another--then from Sept 1-8th, the ticket can be reassigned using the website, similar to last year. Every email address associated with a ticket must have their online account verified with the Shopify website before the benefit sale or they will not be able to shop; account verification will be open from Sept 13-24th.
Shopping: Shopping will be only on Sept 25th.
Purchase Limits: At present, the purchase limits will be a sum total of three dolls and two accessories per ticket holder. This is for all dolls in a collective pool--all 18" dolls (Historical, CYO, Modern, and GotY), Bitty Baby, and Bitty Baby gift boxes--and all accessories. There have been no statements on WellieWishers doll availability.
Costs per doll are as follows:
* $60 for Truly Me dolls
* $120 for Create-Your-Own dolls
* $70 for Character Dolls (Historicals, GotY, and Contemporary Characters)
* $40 for Bitty Baby
* $60 for the Bitty Baby Gift Set
Accessories such as furniture, pets, clothing, etc., will be individually priced. Items are not reserved until checkout and may sell out while shopping.
Post Sale Pick Up: From October 9-24--weekends only--orders will be available for in-person pickup at the new warehouse in Middleton. Shoppers will have the opportunity to select from available pickup times, as well as designate a proxy to pick up orders. Further info on pickup procedures will be provided in future updates.
Bonus Book Buy: As shopping will be tricky and not leave much chance to browse books, a special Bonus Book Buy will be available after the main sale has concluded, where all ticketholders will be able to log back in again and shop for books. Exact times and log-in details for this will be sent out to ticketholders before the sale.
Due to the significant limits on purchase and lack of ticket guarantee, AGBS advises against planning a trip to the sale that involves traveling a long distance. More specific details are available on the official website at American Girl Benefit Sale.
Nethilia, The Admin
Aug 4, 2021 / Hershey Outlet Closing
The American Girl Outlet Store in Hershey, PA, will be closing September 7th.
Nethilia, The Admin
July 26, 2021 / Two More Books
Two more books have been announced by AG through listings on Amazon:
Let's Celebrate!: The Ultimate Party Guide for Girls: about hosting and designing parties
Love Your Look: Care and Keeping Advice for Girls: about makeup, hair care, and nail polish ideas.
The books are due to be released August 5th.
Nethilia, The Admin
July 21, 2021 / American Girl Sweet and Savory Treats Cookbook
A new cookbook, currently listed as American Girl Sweet and Savory Treats, will be released October 19, 2021 and focus on various recipes tied to the historical characters. No cover has been released yet.
Nethilia, The Admin
July 12, 2021 / American Girl and Random House Publishing New Publications
Two more American Girl-themed Random House Books for Young Readers will be released in the US and Canada focused on the Historical Characters, with release dates in 2022:
Nethilia, The Admin
---
Older News

Helping Out on the Wiki
Not sure where to start?
Adding content
---
The Admins are Here to Help!

Hot Topic of 2021
Meet Kira Bailey!

Kira Bailey loves animals a ton--she and her mother help foster kittens in her home state in Michigan. The Bailey Wildlife Sanctuary in Australia--currently owned by her two married great aunts, Lynette and Mamie--has been in Kira's family since the 1800s and is located in Australia, where she spends the duration of her stories.
---
Read more about Kira on her article page!

Learn With American Girl
From HerStory to Your Story:
American Girl gives voice to real girls whose stories—and actions—have inspired others to change the world at
American Girl HerStory
*~*~*
Educate and Empower Children:
Read about the stories of characters of color with free downloadable books at
Diversity and Education with American Girl
*~*~*
Stay Healthy, Stay Home!
Tips for at-home activities, advice, and videos at
Stay And Play with American Girl
---
Education, Empowerment, and Enlightenment

New Product Spotlight
Take a peek at Kira's Koala PJs!

Kira's pajama design focuses on one of the most well known animals native to Australia, the koala--and match her collection's koala as well!
---
Read more this item on the article page!

Consider the Following...
---
Explore The Wiki for More Facts and Trivia!

Table of Contents
Characters and Lines
Fandom, Collecting, and Other AG Services
---
See all pages