American Girl Wiki News: Read All About It!
June 27, 2022 / New Little Golden Book
The next American Girl Little Golden Book by Random House Books will be Grandma Are the Best! American Girl, about character relationships with their grandmothers. The book is due to be released January 3, 2023.
Nethilia, The Admin
June 14, 2022 / New Historical - Claudie
Amazon's website has put up a preorder listing for a new American Girl Historical with the name "Claudie." The book title is not fully confirmed. The release date is listed for August 23, 2022, and the book is listed as a hardcover book--potentially meaning that new books may start having hardcover versions.
We repeat ourselves every time information about a new product begins to emerge, but it always bears repeating. The Rumors, Leaks, and Hearsay policy here is very clear. We only accept official data from reliable sites, of which Amazon is considered one. Until official images and details are released, they are not to be uploaded here or even discussed. A character page is not created until a full name is available. Any and all attempts to post leaks, rumors, or hearsay for upcoming products--or start any articles before reliable information is available--start with a six month block on the very first offense.
source: Amazon.com : Listing
Nethilia, The Admin
June 9, 2022 / American Girl Dolls Inducted into the National Toy Hall of Fame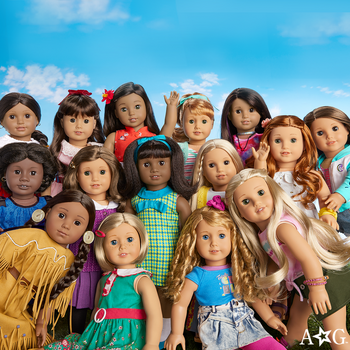 (I never put this in the news in November; it's a busy month for me and I forgot. That said:)
On November 4th 2021, American Girl dolls--along with the board game Risk and sand--were inducted into the National Toy Hall of Fame.
The National Toy Hall of Fame, established in 1998, showcases a wide range of toys that have inspired creative play in children and enjoyed popularity over a sustained period. Toys are celebrated year-round in a state-of-the-art exhibit at The Strong museum in Rochester, New York. Each year, the Toy Hall of Fame inducts selects new honorees from a pool of nominated items (both new and historic) with final selections chosen on the advice of historians, educators, and other expert individuals; each inductee exemplifies and shows how toys inspire learning, creativity, and discovery in children and beyond.
For more information about the hall and to see the list of previous inductees, visit the website at National Toy Hall of Fame.
Nethilia, The Admin
June 1, 2022 / The American Girl Podcast Network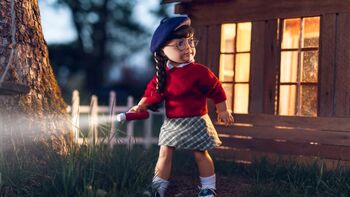 On May 24, 2022, American Girl launched the American Girl Podcast Network. The network has ad-free shows covering both all-new content and older stories. The network has announced three original shows:
American Girl Fan Club Launching July 13, the podcast will be hosted by two well know fans of American Girl, Sydney Paulson (on Instagram @5hensandacockatiel) and Kristen Washington (on Instagram @ag_4allages). The show will go into behind the scenes facts, trivia, and information about the creation and history of American girl and have guest interviews and insider information of upcoming things. For fans of all ages.
The Smart Girls Podcast: Launching Aug. 17, the podcast will be hosted by actress Shay Rudolph (Netflix's The Baby-Sitters' Club, The Present) and cultural expert/network producer Jess Weiner. The show will build on information from the Smart Girl's Guides series to help children in the tween range to navigate things such as emotions, mental health, and friendships and answer questions. Aimed at ages 7-14.
Two more non-fiction podcasts will launch later this summer.
The network is hosted on Apple Podcasts, Spotify, iHeart, Google Play, and Amazon. Launch links and information can be found here: American Girl Podcast Network
Nethilia, The Admin, sometimes finds two posts easier when doing backdated news
June 1, 2022 / The Return of Molly (and New Things for Moddies)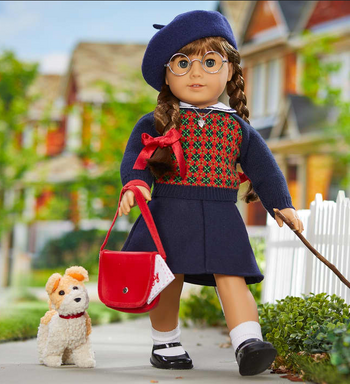 Goodness golly, welcome back Miss Molly! There's also new stuff for Truly Me, Bitty Baby, and the WellieWishers--including a new boy WellieWisher, Bryant, in the lineup!
For the Molly McIntire rerelease, returning to Molly's Collection:
For Truly Me:
For WellieWishers:
For Bitty Baby:
New Options in the Create Your Own designer:
Butterflies and Unicorns Outfit

Butterflies and Unicorns Accessories

Fun With Fashion Outfit

Fun With Fashion Accessories

Win the Weekend Outfit

Win the Weekend Accessories

Relaxed to the Max Outfit

Relaxed to the Max Accessories
New things don't end old habits. We expect quality pictures, quality articles, and quality work.
Nethilia, The Admin
May 12, 2022 / American Girl Benefit Sale News
The American Girl Benefit Sale has announced its plans for 2022. The sale will happen starting July 14th and continue through July 16th or until all items are sold.
Purchasers are encouraged to register to participate. Registration is free through a Google form. People who have not registered will only be able to shop after registered users have made purchases.
Tickets will not be time staggered. All registered shoppers will be able to shop as soon as the sale begins.
Per-cart limits will be set for items and categories of items. All purchasers may, after purchasing, return and shop again to refresh the limits. Multiple orders will be combined before shipping or pickup.
Purchasers may choose to either pick up items or have them shipped.
In-person pickup will be in Middleton, Wisconsin, July 30-31 and August 6-7.
Shipping will be offered through a third-party shipping partner, who will determine shipping costs, contact purchasers for payment, and then ship items
More information and further details will be posted by June 15.
The registration form can be found at their Facebook page here.
Nethilia, The Admin
May 11, 2022 / American Girl Live Action Movies in 2022 and 2023
Mattel, Inc. has announced a partnership with HBO Max and Cartoon Network to release two American Girl specials, to debut in 2022 and 2023.
The first special will be about Corinne Tan and will premiere December 2022 on Cartoon Network, followed by a next-day release on HBO Max. American Girl: Corrine Tan (working title) will follow Corinne's book storylines, but age Corinne up to thirteen and her younger sister, Gwynn Tan, to ten. Miya Cech will play Corinne, Kai Cech her sister Gwynn, and Michelle Krusiec as their mother, Judy.
A second, currently unspecified special will premiere in 2023. Both specials will be produced by MarVista Entertainment.
Nethilia, The Admin
May 5, 2022 / New Releases for Spring, Part 2
More new spring-into-summer items have released, for Corinne's Collection and Truly Me.
For Corinne's Collection:
For Truly Me:
In Books:
Nethilia, The Admin
April 7, 2022 / New Releases for Spring
New items for select Historical Characters, Kira's Collection, and Truly Me have been released, including the return of Coconut and Licorice!
For Kira's Collection:
For Truly Me:
Plush based on Modern pets: and Corrine's Dog:
There are also various grouped collections for spring; these have no discount, only advertise bundling the items together.
Nethilia, The Admin
March 18, 2022 / American Girl Audio Titles through Penguin Random House
Listening Library--a imprint of Random House Audio Publishing Group--will be partnering with American Girl to bring multiple books to audiobook listening, starting in June 2022. They will be partnering together to publish audio books from the Historical Characters (including books released by Random House and Central Series books), Girls of the Year (such as Corrine), World by Us, WellieWishers, and non-fiction books such as

The Care and Keeping of You

.
The first books will release June 7th, 2022, with over forty books available for purchase; further titles will be published in fall 2022 and Spring 2023 to be announced.
Nethilia, The Admin
March 13, 2022 / American Girl Los Angeles Relocation
American Girl Place Los Angeles will be moving to a new location, to open by the holiday season; a pop up location will be available in the interim, but no details are yet available. Until April 16th, items at the location will be up to 50% off. All sales are final, with no returns or refunds available. Dining reservations are available until April 13, 2022.
ETA: 4/8/22: A pop-up shop will open this May in the Westfield Century City Mall; this is also the new location come Holiday 2022.
Nethilia, The Admin
---
Older News
Helping Out on the Wiki
Not sure where to start?
Adding content
---
The Admins are Here to Help!
Hot Topic of 2022
Meet Corinne Tan!

Corrine Tan is adjusting to a new life with a new stepfather--she and her little sister, Gwynn, have always called Aspen home, but with a new stepfather comes many new changes. She's also the first Chinese-American Girl of the Year!
---
Read more about Corinne on her article page!
Learn With American Girl
From HerStory to Your Story:
American Girl gives voice to real girls whose stories—and actions—have inspired others to change the world at
American Girl HerStory
*~*~*
Educate and Empower Children:
Read about the stories of characters of color with free downloadable books at
Diversity and Education with American Girl
*~*~*
Stay Healthy, Stay Home!
Tips for at-home activities, advice, and videos at
Stay And Play with American Girl
---
Education, Empowerment, and Enlightenment
Rules and Regulations!
Please read our About Pages and Specific Policies, especially the General Rules, Warning and Banning Policy and the User Name and User Pages Policies.
Parents and Guardians, please check our Parent Page for a quick overview.
If you have never edited on a wiki site before, please test any changes and code in our Sandbox before editing or making additions to the actual article page.
Read the Articles on Article Creation, Editing Guidelines, and Style Guide and about Image Policies before creating articles, editing articles, or uploading images! Don't let your new articles, edits, and pictures get deleted (and you possibly blocked!) for not reading what we require in our style guides.
Warning: this wiki contains unmarked spoilers.
---
Rules and Specific Policies
New Product Spotlight
Take a peek at Corinne's Ski Outfit and Accessories!

Corinne lives in Aspen, Colorado, known for its skiing--and, with her new stepfather's wealth, is able to take up skiing lessons while Gwynn takes up skating.
---
Read more this item on the article pages!
Consider the Following...
---
Explore The Wiki for More Facts and Trivia!
Table of Contents
Characters and Lines
Fandom, Collecting, and Other AG Services
---
See all pages
American Girl In The News: RSS
Please note that the American Girl Wiki staff does not collect or personally locate these news articles; they are pulled in by an automated Google RSS feed and may not be specifically about the American Girl brand. The American Girl Wiki and its admins have no official opinion on any article seen here.
---
REFRESH