American Girl Wiki News: Read All About It!
December 3rd, 2021 / World Traveler and Mix and Match Sets
New Items have released just before the end of the year.
First are new additions to the World Traveler Collection:
Second, a new Mix and Match Set has been released, the Pawsitively Purrfect Collection:
Meow Wow Tank and Crop Top

Stay Pawsitive Dress

Snow Leopard Hoodie

Purrfect Leggings and Shorts

Snow Leopard Joggers

Snow Leopard Booties

Pawsitively Purrfect Accessories
There are also two new books:
The Ultimate American Girl Sticker Book

American Girl Character Encyclopedia New Edition Book
Nethilia, The Admin
November 24th, 2021 / Winter Olympics Sets

(backdated news)
New outfits have been released in anticipation of the 2022 Winter Olympics, along with one new item for children:
Nethilia, The Admin
October 24th, 2021 / Costco Bundles and New Random House Books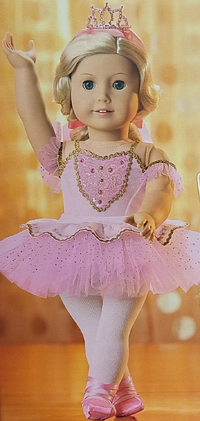 Costco has offered two new bundles for the holiday season.
Sparkling Ballerina Doll and Outfit Set for $129.99: four versions of ballet-themed dolls that come with a performance and a practice outfit as well as the book Friends: Making Them and Keeping Them. The dolls are all Truly Me dolls: #67, #82, #84, and one unique blonde, blue eyed doll with the Classic mold and long curls that has been previously unreleased.
American Girl Truly Me Outfit and Accessory Sets for $59.99: Fourteen piece outfit and accessory sets. The two options are Pet Boutique and Movie Night. Each comes with an outfit and various themed accessories.
WellieWishers Doll and Garden Classroom Set for $89.99: Includes WellieWishers doll dressed in the modified Smart as a Fox School Outfit with original meet shoes, and modified versions of the Ready to Learn Backpack and Lunch Set and Ready to Learn Desk Set.
S'more Fun Camping Set for $69.99 (from last year): Doll sized camping tent, sleeping bag, campfire, campfire pie, s'more, s'more stick, and two plates.
Two new Random House Books have been found on Amazon.com:
Nethilia, The Admin
October 22nd, 2021 / American Girl x Stoney Clover Lane

(backdated news)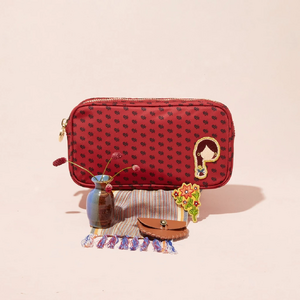 American Girl has paired with Stoney Clover Lane to release customizable accessory purses and bags in celebration of the 35th anniversary.
The line, titled Stoney Clover Lane x American Girl, consists of the brand's small pouches, large pouches, flat pouches, and mini tote bags in prints based on the first six Historical Characters's Classic Meet Outfits along with character patch designs and letters that can either be purchased separately or used to customize the bags.
The items are available through both companies, both online and in physical stores (American Girl Place and Stoney Clover Lane stores).
Nethilia, The Admin
Sept 27th, 2021 / New Outfits for Celebration
Five new cultural outfits have been released today for Truly Me:
Furthermore, for the next two days Historical Character and Girl of the Year dolls are on sale for $98 (offer valid online only).
Nethilia, The Admin
Sept 23nd, 2021 / Welcome in with World by Us! And Other Anniversary Things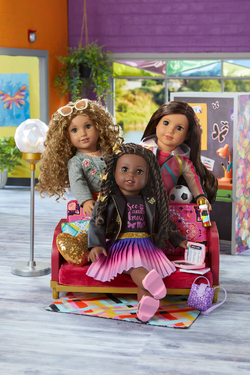 American Girl has launched details about the World by Us line, an all-new line of contemporary characters. The three main characters--Makena Williams, Evette Peeters, and Maritza Ochoa, have intertwining, unique stories that focus on current social justice and world improvement issues like racism, immigration, the environment, and creating a better world together.
Items in the collection include:
Along with the dolls, books, and items in the collection--which were created with an advisory board--a stop-motion doll series will be made available on American Girl's YouTube and YouTube Kids Channel starting September 27. Character outfits are are designed with collaboration with designers from Harlem's Fashion Row (HFR) while meet Dress Like Your Doll items are in collaboration with Janie and Jack.
As part of the World by Us launch event, the brand hosted a special American Girl Fashion Show on September 23, 2021 at American Girl Place New York and via livestream focused on the HFR designs for the World by Us and Historical Characters. Furthermore, American Girl is supporting HFR's nonprofit organization, ICON360, with a $25,000 donation to help raise awareness and funds for the next generation of BIPOC fashion leaders. The World by Us-inspired doll fashions for the characters will be on pre-sale at launch and become available for purchase at American Girl retail stores starting in March 2022.
Additionally, this fall--to further support children's literacy and provide more diverse books to U.S. schools and public libraries--the company is donating $60,000 worth of World by Us books to the following organizations: Reader to Reader, Kids Need to Read, and Little Free Library Read in Color Initiative.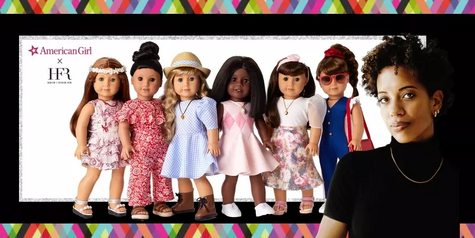 Continuing the 35th Anniversary celebration, a new item designed by Carly Cushnie, the American Girl Collector Tote, has been released, featuring re-imagined modern-style fashion designs for the first six Historical Characters. American Girl is also auctioning off one of a kind versions of the dolls, designed by Cushnie, on eBay. Each doll starts at $300 with all proceeds to go to Girls who Code, with auctions running from 5:30 pm Sept 23 to 5:30 pm (EDT) Sept 26, or three days.
More information can be found here:
Nethilia, The Admin
Sept 22nd, 2021 / Winter Releases
The Limited Edition doll for 2021, the American Girl 2021 Winter Princess, has been released. The doll is limited edition and comes in either a light skinned blonde or a dark skinned brunette.
Other new items for Truly Me:
For WellieWishers:
For Bitty Baby:
Also, two new hair colors have been added to the Create Your Own options, blue and purple.
Nethilia, The Admin
Sept 10th, 2021 / Stronger in Colour Shirt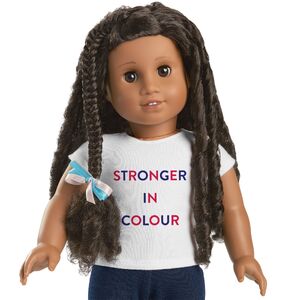 American Girl has released a limited edition T-shirt in collaboration with designer Prabal Gurung, the Stronger in Colour Shirt. The shirt is available for both dolls and children.
Nethilia, The Admin
Sept 3rd, 2021 / Courtney and Mix and Match Releases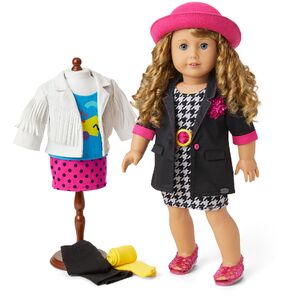 A new Mix and Match set as part of Courtney's Collection has been released, as well as a new set of Modern Mix and Match.
For Courtney:
For the Truly Me line:
Nethilia, The Admin
---
Older News

Helping Out on the Wiki
Not sure where to start?
Adding content
---
The Admins are Here to Help!

Hot Topic of 2021
Meet Kira Bailey!

Kira Bailey loves animals a ton--she and her mother help foster kittens in her home state in Michigan. The Bailey Wildlife Sanctuary in Australia--currently owned by her two married great aunts, Lynette and Mamie--has been in Kira's family since the 1800s and is located in Australia, where she spends the duration of her stories.
---
Read more about Kira on her article page!

Learn With American Girl
From HerStory to Your Story:
American Girl gives voice to real girls whose stories—and actions—have inspired others to change the world at
American Girl HerStory
*~*~*
Educate and Empower Children:
Read about the stories of characters of color with free downloadable books at
Diversity and Education with American Girl
*~*~*
Stay Healthy, Stay Home!
Tips for at-home activities, advice, and videos at
Stay And Play with American Girl
---
Education, Empowerment, and Enlightenment

New Product Spotlight
Take a peek at Kira's Koala PJs!

Kira's pajama design focuses on one of the most well known animals native to Australia, the koala--and match her collection's koala as well!
---
Read more this item on the article page!

Consider the Following...
---
Explore The Wiki for More Facts and Trivia!

Table of Contents
Characters and Lines
Fandom, Collecting, and Other AG Services
---
See all pages

American Girl In The News: RSS
Please note that the American Girl Wiki staff does not collect or personally locate these news articles; they are pulled in by an automated Google RSS feed and may not be specifically about the American Girl brand. The American Girl Wiki and its admins have no official opinion on any article seen here.
---
REFRESH