American Girl Wiki News: Read All About It!
March 4 2021 / New Truly Me Items
A plethora of new things have come out out for Truly Me. Several are listed as pre-orders online and won't ship until near the end of March. That being said, here we go!
The new Mix and Match Set, The Sweet Street Collection:
Other outfits and accessories:
Nethilia, The Admin
March 2 2021 / New Truly Me Dolls and the Street Chic Collection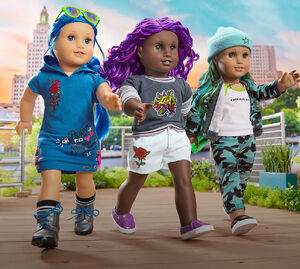 Three new Truly Me dolls have been released as part of the Style Squad (or Street Chic, the website isn't yet clear). (ETA, 9 pm PST: the name has been confirmed as the Truly Me Street Chic Collection.)
Each doll has a unique exclusive meet outfit and coordinating shared meet accessories:
The dolls will be available at American Girl Place but some items may not ship from online orders before the 15th.
Nethilia, The Admin
February 3, 2021 / New Items
Some newly released items on the site for Courtney and Truly Me.
For Truly Me in the World Traveler Collection:
These are also available along with the previously released American Girl Airlines Set as the American Girl Air Lines Ultimate Collection for $422.
Nethilia, The Admin
January 25, 2020 / Closure of American Girl Seattle
American Girl Place Seattle has announced its closure after ten years in operation, with the final day of operation on February 17th of this year.
Nethilia, The Admin
January 23, 2021 / Other Items Released
A few items were overlooked as being released recently: items for at-home celebrations and a AG version of UNO. Also there was an updated styling set that was never listed in our news.
Nethilia, The Admin
January 13, 2021 / More information on Courtney's Second Book
Information has appeared on Amazon regarding Courtney's second book, Courtney: Friendship Superhero. It confirms the name of her new friend, Issac Wells, and that he has HIV which causes a conflict between Courtney and her friend, Sarah.
This is all that's known for now. Any attempts at leaks before release will result in blocks.
Nethilia, The Admin
December 31, 2020 / Welcome, Kira!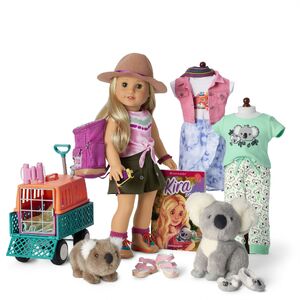 Welcome Kira Bailey to the Girls of the Year! She arrives to the American Girls lineup with a love of animals and the following in her collection:
As well as a new book, Love the Earth. Furthermore, American Girl is supporting WIRES (NSW Wildlife Information, Rescue and Education Service Inc.), the largest wildlife rescue organization in Australia. Purchasers can make a $1, $5 or $10 donation and the company will match up to $25,000.
A set of dresses for Truly Me and Bitty Baby came out, the Dot to Dot Dress and Darling Dots Dress respectively.
We've also had our first block for poor uploads on new things! Don't follow in their footsteps. Leave that energy in 2020.
Nethilia, The Admin, Likes Kangaroos
December 23, 2020 / Truly Me New Release and Historical Ultimate Collections
Three updates at once? Yes, because I want them separate.
A Truly Me-only release has come out with World Travel Sets and a new mix and match set about exercise and athletics, along with shoes. To quote Bill Nye, consider the following:
The New Mix and Match, the Fiercely You Collection:
The rest for Truly Me:
For Historicals and Since about mid December, Ultimate Collections are now available. For a slight discount the bundle includes the doll, meet accessories, both books, pet if available, and one additional outfit with accessories:
Other bundles of items are also available on the site.
Nethilia, The Admin
December 23, 2020 / American Girl Diversity Initiatives Update
American Girl has shared a progress report regarding the Commitment to Racial Equality on their Instagram account and Facebook. Along with previous statements, the following has been stated:
The first of the conversation series is due to launch in February 2021 about social justice with the second in April regarding climate change. There will be continued featuring of other young heroes from diverse cultures, backgrounds, and life experiences.
August 2021 will bring a book written by Deanna Singh about fighting racism and becoming anti-racist.
Teams continue to work on the newly planned but not yet announced new contemporary line with more stories of diversity. The line is looking at a debut in the latter half of 2021.
New partnerships will later be announced as well.
2021 is also the 35th anniversary of American Girl. Let's hope the celebration is a good one with lots of diversity and good things.
Nethilia, The Admin
December 23, 2020 / 2020 Girl of the Year Kira Bailey
American Girl has confirmed with their first catalog of 2021 that the 2021 Girl of the Year will be Kira Bailey. She is visiting her married aunts--as in, to each other--in Australia to help at their wildlife sanctuary post the Australian wildfires. New items are also launching for Truly Me including items focused on travel around the world, which will be a separate news post.
In the spirit of "not getting banned for leaks and nonsense", the admins ask that editors be cautious in their editing of new items. If you suspect what you're going to upload isn't open data, is poorly reviewed, or is otherwise hearsay and you can't back it up? Then maybe, just maybe, don't do it. The bans are still generous.
Nethilia, The Admin
---
Older News

Hot Topic of 2021
Meet Kira Bailey!

Kira Bailey loves animals a ton--she and her mother help foster kittens in her home state in Michigan. The Bailey Wildlife Sanctuary in Australia--currently owned by her two married great aunts, Lynette and Mamie--has been in Kira's family since the 1800s and is located in Australia, where she spends the duration of her stories.
---
Read more about Kira on her article page!

New Product Spotlight
Take a peek at Kira's Koala PJs!

Kira's pajama design focuses on one of the most well known animals native to Australia, the koala--and match her collection's koala as well!
---
Read more this item on the article page!

Consider the Following...
---
Explore The Wiki for More Facts and Trivia!

Table of Contents
Characters and Lines
Fandom, Collecting, and Other AG Services
---
See all pages

Helping Out on the Wiki
Not sure where to start?
Adding content
Talk and more...
Check out the community portal to see what the community is working on, to give feedback or just to say hi.
---
The Admins are Here to Help!
Community content is available under
CC-BY-SA
unless otherwise noted.