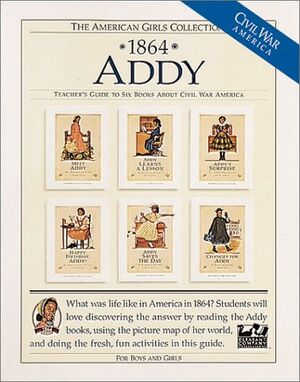 American Girl Teacher's Guides were teacher's educational books. These were officially released from American Girl for educational use with the central stories of the first six Historical Characters.
Details
Guides were released for Felicity Merriman, Josefina Montoya, Kirsten Larson, Addy Walker, Samantha Parkington, and Molly McIntire. Each guide covered all six books of a character's Central Series. The initial guides were released in 1995, with one released for Josefina in 1998. The lessons were targeted towards students in Grades 3 through 5 (US), and could be paired with the Pasttimes series. Guides were marketed towards schools, libraries, and educational programs (at the time of release, home schooling was not as prevalent or mainstreamed as currently).
All the books were retired before the release of Kit Kittredge; she and no Historical Characters after her received these. Educational guides are now offered on the American Girl Publishing site in a reduced form; initially with guides covering multiple characters and lines, newer guides focus on a specific character, generally along with the first book of the series.
Included Information
Overview: Each book had an overview of the era, the books, the location of the series, vocabulary information, and information about the author. At the back included a full Answer key and other books on each era. Each book also included a pull-out map of the locations in the series. The inner covers offered the suggestion that books could either be focused on as a series or in groups on a topic through history (in Central Series order: Family, School, Christmas, Springtime, Summer, and Winter).
The Books: Along with basic plot summaries about each book in the series, there is discussion on themes, the Looking Back section, and worksheets as blackline masters which are marked with unique numbers and reproducible for in-class lessons.
Hands-On History: Various activities were included to expand on the stories, including ideas for projects.
Response Key: The answers for the blackline master worksheets.
Books About: A listing of other books, fiction and non-fiction, and magazines, that are either set in the era or about it. Books are sorted into Easy, Average, or Challenging according to the skill level of an average child of the grade level.
Map: In the back was a folded, full color version of the historical character's map, at 31.5" by 21.25" in dimensions. These could be removed to be mounted on a wall to show various locations discussed in the story.
Theater Kits
An educational guide was released covering plays released with theater kits.
Educational Units
Educational Units covering full topics (such as America at School) were available for order for schools. These included a Teachers Guide, the books pertinent to the unit (so, for example, America at School covered the school books) activity cards, large wall charts, and poster maps.
Teacher's Guide Books