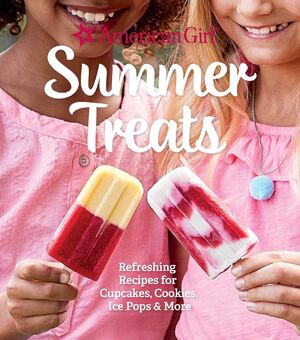 American Girl Summer Treats is an American Girl cookbook made in partnership with Williams-Sonoma and released in 2020. Retail cost is $19.95.
Sections
Cakes, Cupcakes and Cookies
Watermelon Cake
Red, White and Blueberry Cake
Fireworks Bundt Cake
Mixed Berry Shortcake
Lemon-Blackberry Crumb Bars
Flower Cookie Pops
Plum Upside-Down Cake
Day at the Beach Cupcakes
Sand Dollar Snickerdoodles
Chewy Oatmeal Cookies
Chocolate Crinkle Cookies
Pineapple Cupcakes
Neapolitan Ice Cream Cake
Chocolate Ice Box Cake
Lemon Meringue Cookies
Apricot Streusel Coffeecake
Fruity Cake Tower
Seven Layer Bars
S'mores Brownies
Pies, Tarts and Crumbles
Classic Apple Pie
Apple Galettes
Key Lime Pie with Pretzel Crust
Lemon-Confetti Whoopie Pies
Individual Cherry Cobblers
Jumbo July 4th Whoopie Pies
Lemon Curd and Kiwi Tartlets
Raspberry and Apricot Crumble
Blackberry Tart with Pecan Crust
Strawberry Hand Pies
Nectarine-Blueberry Crisp
Cool Sweets
Mud Pie Sundaes
Vanilla Ice Cream
Strawberry Shake
Raspberry Fool
Mermaid Pops
Pineapple Whip
Sprinkle-Dipped Bonbons
Chocolate-Dipped Frozen Bananas
Ice Cream Float
Orange and Vanilla Parfait
Watermelon Granita
Cantaloupe Sorbet
Ice Cream Sandwiches
Fruit Slushies
Celebration Pops
Chocolate Pudding Pops
Coconut-Mango-Strawberry Pops
Berry Yogurt Swirl Pops
Fruity Ice Pops
Poolside Piña Colada Slushies
Frozen Lemonade in lemon Cups
Summer Snowballs
See Also
Community content is available under
CC-BY-SA
unless otherwise noted.